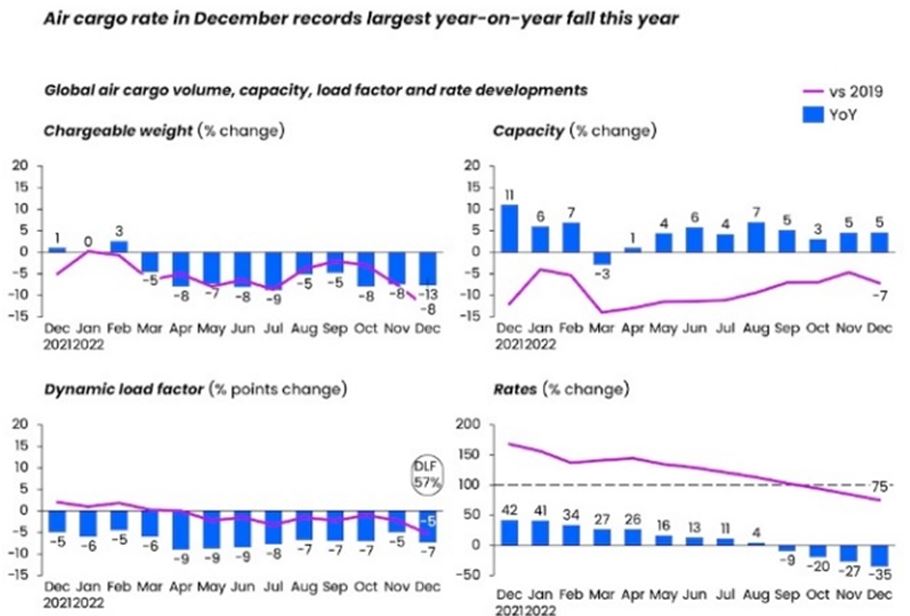 The air cargo market is holding its own despite the onslaught of economic pressures in the past year.
According to the latest industry analysis by Xeneta-owned CLIVE Data Services, chargeable weight fell 8% year-on-year (y/y) in December and the general airfreight spot rate registered its largest y/y decline of 35% while capacity recovered to 93% of the 2019 level.
CLIVE's 'dynamic load factor', which measures both weight and volumes, declined seven percentage points y/y to 57% and was five percentage points below the figure for December 2019 but overall, average rates remained 75% above the pre-COVID level (see Figure).
"It would be easy to take a pessimistic view of the global air cargo market's downturn, but this would ignore where it has come from.
There is little use comparing it to the same time last year because then we had no Ukraine conflict, no high energy prices, no soaring interest rates, nor the impact of the subsequent cost-of-living pressures.
So, based on the global environment we see right now, airlines are still achieving rates 75% higher than pre-COVID. That indicates the glass is very much still half full," Niall van de Wouw, Chief Airfreight Officer at Xeneta pointed out.
Van de Wouw noted there was less pressure on shippers, despite the higher costs in the current market.
He said this would help the long-term sustainability of the air cargo supply chain.
Yet, the future remains uncertain. An earlier Chinese New Year will likely have an impact on the industry, alongside "rising COVID levels in China, which is already impacting some factory production", van de Wouw noted. Increasing capacity will continue to put pressure on the industry, but the decline in rates is "gradual" rather than rapid which has helped the industry adjust, he said.
"It's clear it remains in a very unpredictable state given world events.
We don't see demand recovering quickly because of what is happening around the world, but we do expect to see supply continuing to come back into the market.
This, of course, will put further pressure on load factors and rates…
Looking at the broader perspective, we still see a very efficient air cargo market, especially when compared to the 70-80% fall in ocean rates in the past 8-9 months.
"The fact that the airfreight domain is more competitive and more fragmented on the supply side meant rates didn't go as crazy as we saw with ocean container prices, so the decline, now airfreight volumes are lower, is more gradual.
Air cargo is much stronger than it was pre-COVID, but the current direction of the market means there is some degree of good news for everyone," van de Wouw added.
Source: Air Cargo News