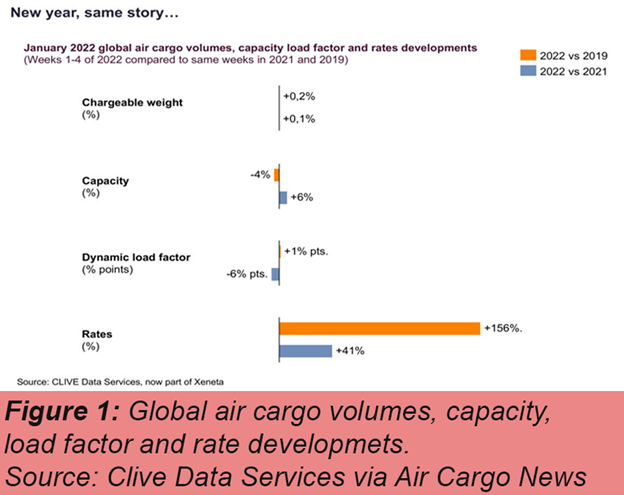 Source: The Loadstar
The air cargo market should be cautious about drawing conclusions based on January's market performance, said Niall van de Wouw, chief airfreight officer at Xeneta.
Aside from the uncertainties caused by COVID, the aviation industry encountered added challenges brought on by 5G concerns in the U.S., winter weather episodes impacting flight schedules and an earlier-than-usual Chinese New Year in 2022.
"Measured against all these factors, January's performance shows there is still a good degree of resilience in the global air cargo market," van de Wouw pointed out.
CLIVE Data Services, now owned by Xeneta, reports that year-on-year, chargeable weight saw a 0.1% increase in January. And despite fragility in the global airfreight supply chain, volumes were up 0.2%. Cargo capacity was up 6% versus January 2021 and rates are 41% higher compared to a year ago (see Figure 1).
Shippers waiting for a rate reduction that typically follows the Chinese New Year peak will not see significant discounts due to already weaker than expected rate levels out of China on top of a shortened peak period.
Payton Burnett, MD of the TAC Index said after the Lunar New Year holiday, production of general goods will ramp up. Key shipments, much of which are COVID test kits will end up competing for capacity with general goods in February and March.