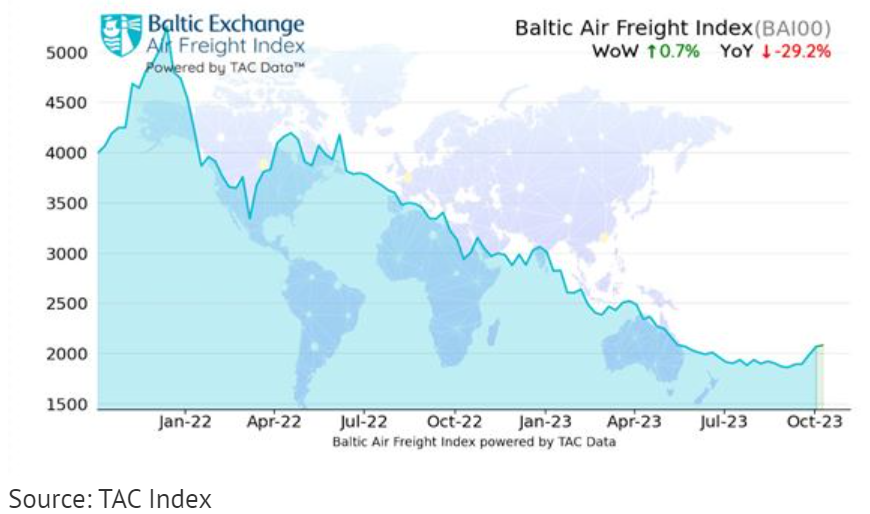 The air cargo industry has seen some improvement in recent weeks, with rates tightening and demand increasing. However, experts remain cautious, warning that it may be too early to celebrate a full recovery.
The Baltic Exchange Airfreight Index (BAI) rose 0.7% in the week to October 9, cutting its year-on-year decline to -29.2%. This was led by higher rates out of China, with the index for outbound Hong Kong routes gaining 6.3% week on week.
Neil Wilson, editor of TAC Index, is positive about the outlook and said that the industry is seeing a "genuine peak season bounce" that could extend into next year. He quoted airline sources that have suggested major product launches – such as the new iPhone – would boost demand.
However, other experts are more skeptical. Bruce Chan, director and senior research analyst covering global logistics and future mobility at investment bank Stifel, said that it is too early to say whether the recent market improvements represent a sustainable recovery. He pointed out that rates are still well-below where they were last year, and supply continues to enter the market.
Xeneta chief airfreight officer Niall van de Wouw is also cautious. He said that the recent market improvements reflect normal seasonal trends, and that the global air cargo market is still muted. He does not expect to see a full-blown recovery until Q3 2024.
In conclusion, the air cargo market is showing some signs of recovery, but it is still too early to say whether this will be sustained. Experts are advising caution, as rates are still low, and supply is increasing.
Source: www.aircargonews.net