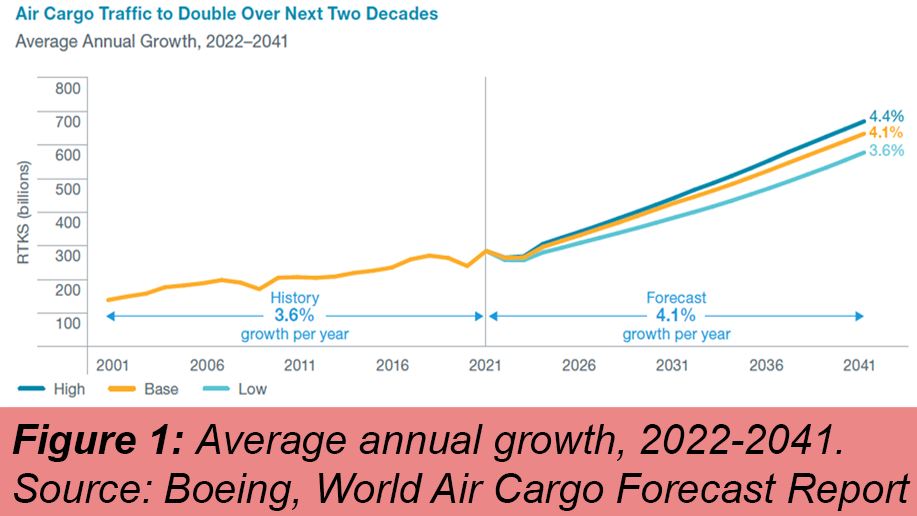 Boeing is projecting robust demand for air cargo services through 2041 with traffic doubling and the global freight fleet expected to grow by more than 60%, according to the company's World Air Cargo Forecast report (see Figure above).
The average annual growth rate is projected at 4.1% over the next 20 years.
In comparison, the annual growth rate was at 3.6% between 2001 and 2021.
Boeing said the estimated annual growth has been strengthened by the development of e-commerce, express network growth, a reliance on air cargo to support supply chains, a move to multi-source production, higher pricing in box shipping due to consolidation as well as trade and economic growth.
Nearly 2,800 production and converted freighters will be delivered over the next 20 years for growth and replacement of older aircraft. 38% of freighter deliveries will go to Asia Pacific airlines, 32% to North America, 16% to Europe, 9% to Middle East and Africa and 5% to Latin America.
"While the air cargo market is returning to a more normal pace after historic demand in the last two years, structural factors including express network growth, evolving supply chain strategies and new cargo-market entrants are driving sustained freighter demand," said Darren Hulst, Boeing vice president of Commercial Marketing.
"In the global transportation network, air freighters will continue to be a critical enabler to move high-value goods, in increased volume across expanding markets."
Source: Air Cargo News