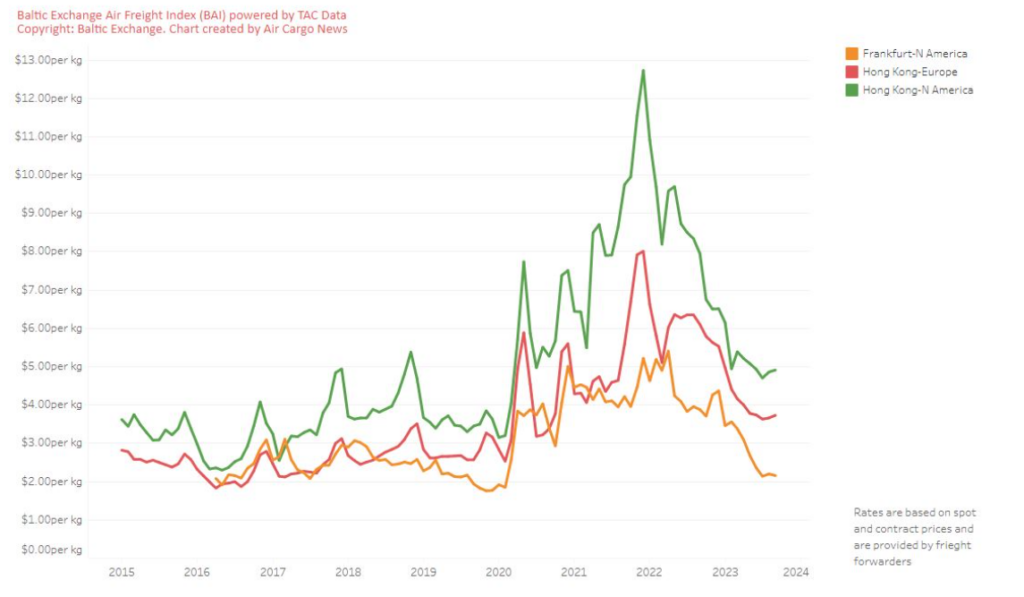 Airfreight rates showed signs of recovery in September, marking the first significant improvement in over a year.
The latest figures from the Baltic Exchange Airfreight Index (BAI) show that average rates – spot and contract – paid by forwarders from Hong Kong to Europe and North America increased for the second month in a row in September.
From Hong Kong to North America, rates increased to $4.90 per kg from $4.85 per kg a month earlier, with improvements picking up as the month progressed. From Hong Kong to Europe, prices improved to $3.72 per kg from $3.65 per kg in August.
The rate increases come at a time when the air cargo industry is entering its busiest peak season. This time of year typically sees a surge in demand for air transportation, as businesses rush to get their goods to market in time for the holiday shopping season.
In addition to the peak season effect, there are a number of other factors driving up airfreight rates. These include:
Capacity constraints: The air cargo industry is still grappling with capacity constraints, as a result of the COVID-19 pandemic and the ongoing war in Ukraine. This has made it difficult for airlines to keep up with demand, leading to higher rates.
Rising fuel costs: The cost of aviation fuel has also been rising in recent months, which has put additional pressure on airfreight rates.
Strong demand: Demand for airfreight remains strong, despite the global economic slowdown. This is due in part to the continued growth of e-commerce, which requires fast and reliable transportation.
The outlook for airfreight rates in the coming months is uncertain. However, many experts expect rates to remain elevated, as the industry continues to face capacity constraints and rising costs.
Source: www.aircargonews.net