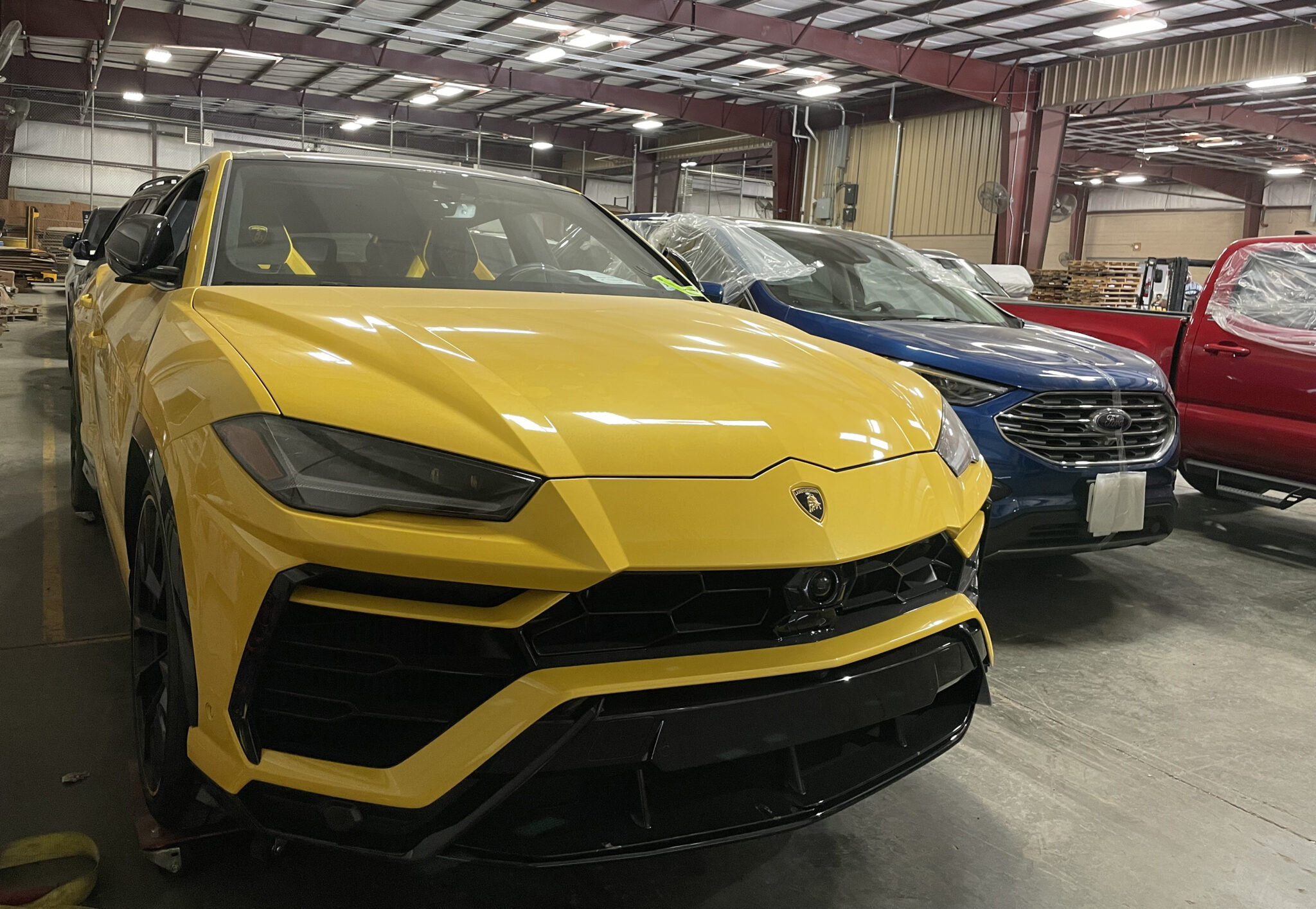 During fiscal year 2022 (October 1, 2021 – September 30, 2022), the Baltimore Field Office of CBP achieved a significant milestone by intercepting 239 stolen vehicles, surpassing all other CBP field offices nationwide. The total value of these vehicles amounted to nearly $11.5 million. This accomplishment highlights the effectiveness of CBP officers in preventing stolen vehicles from being exported abroad via sea or land borders within the United States. Collaborating closely with special agents from Homeland Security Investigations (HSI), as well as state and local law enforcement partners, CBP officers conducted thorough investigations into the stolen vehicles during numerous seizures. The joint efforts of CBP officers and HSI's Border Enforcement Security Task Force (BEST) played a crucial role in these operations
Additionally, the Baltimore Field Office seized an additional 73 vehicles that were not stolen, but were found to be either unmanifested, possessed fraudulent titles, or violated other export laws. These non-stolen vehicles had an estimated value exceeding $2.8 million. CBP officers consistently carry out inspections on imports and exports to ensure compliance with U.S. laws, safety standards, and international conventions. When inspecting outbound vehicles, CBP officers meticulously examine vehicle documentation and cross-reference vehicle identification numbers (VIN) with reports of stolen vehicles.
Stephen Maloney, Director of Field Operations for CBP's Baltimore Field Office, emphasized the significance of disrupting the illicit trade in stolen vehicles, as transnational criminal organizations employ them as a form of currency to finance their unlawful activities. Maloney highlighted the crucial role played by CBP officers, federal agencies, and state and local law enforcement partners in curbing this illegal trade. Rigorous import and export examinations remain integral to CBP's mission of enhancing border security. The jurisdiction of the Baltimore Field Office spans from Trenton, N.J., to the Virginia-North Carolina state line, encompassing New Jersey, Pennsylvania, Delaware, Maryland, Virginia, West Virginia, and Washington, D.C. Seaports in the Delaware Valley region, Baltimore, and Norfolk, Va., serve as major hubs for exporting vehicles and other conveyances.
The stolen vehicle recoveries made by the Baltimore Field Office in 2022 provide valuable data points:
Baltimore Field Office secured the top spot nationally, recovering 239 stolen vehicles valued at $11,488,978. The Area Port of Baltimore ranked second nationally, with 149 stolen vehicles recovered, valued at $7,397,916. The Area Port of Norfolk-Newport News, ranked seventh among CBP Ports of Entry, recovered 70 stolen vehicles valued at $3,907,667. The collective efforts of the Area Port of Philadelphia and the Port of Wilmington, Del., resulted in the recovery of 20 stolen vehicles, valued at $183,395. Over the past five years, the Baltimore Field Office has averaged 178 stolen vehicle recoveries per year (890 total), including 95 in FY2021, 157 in FY2020, 246 in FY2019, and 110 in FY2018. West African nations, including Benin, Burkina Faso, The Gambia, Ghana, Guinea, Liberia, Nigeria, Senegal, Sierra Leone, and Togo, received 95% (225 vehicles) of the recovered stolen vehicles. The top five destination countries were Sierra Leone (49 vehicles), Togo (43), Ghana (35), Nigeria (27), and Liberia (26), accounting for 76% of the recoveries. Sport utility vehicles comprised 71% (169 vehicles) of the recovered stolen vehicles. The most commonly recovered stolen vehicles were the Land Rover Range Rover (27 vehicles), Toyota 4-Runner (18), Toyota Rav4 (17), BMW X7 (16), and BMW X5 (15). The most expensive recovered stolen vehicle was a 2022 Bentley Bentayga valued at $187,600, intercepted before being shipped to Togo. The oldest vehicle recovered was a 1973 Rolls Royce Silver Shadow, valued at $11,700, destined for Saudi Arabia. The only ATV seized was a 2016 Honda TRX420FM bound for Costa Rica, intercepted by CBP officers in Wilmington. CBP officers and agriculture specialists from the Office of Field Operations lead CBP's border security mission at Ports of Entry, ensuring the screening of international travelers and cargo to detect illicit narcotics, unreported currency, weapons, counterfeit goods, prohibited agriculture, invasive species, and other illicit items that pose potential harm to the American public, U.S. businesses, and national safety and economic well-being.
Source: www.hstoday.us / Homeland Security Today