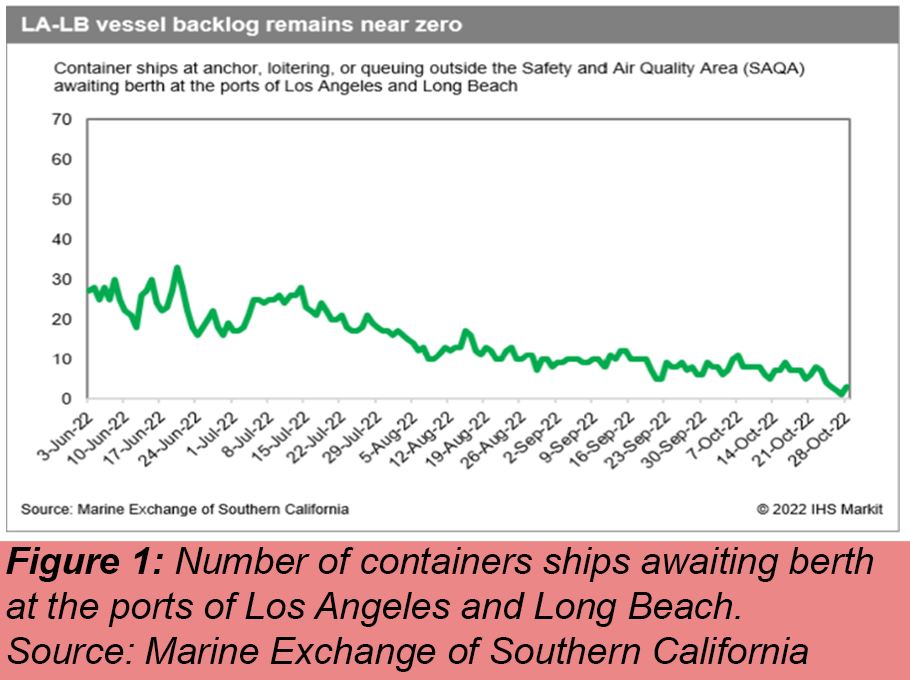 APM Terminals (APMT) said the two largest container gateways in the U.S., Los Angeles-Long Beach and New York-New Jersey, are returning to pre-pandemic efficiency levels while noting it will take some time for ports along the South Atlantic and Gulf Coast to achieve more normal cargo flow.
Leo Huisman, APMT's managing director for the Americas region said dwell times determined the health of terminals, stating the ports of Los Angeles and Long Beach are congestion-free.
"There is no congestion. Zero. Zip. This gateway is fluid," Huisman said (see Figure).
Los Angeles-Long Beach has seen reduced congestion following the drop in import volumes. U.S. imports from Asia moving through West Coast ports fell -1.69% in 2022 through September according to PIERS.
This was attributed partially to cargo diversions linked to lengthy longshore contract negotiations.
Huisman expects the port of New York-New Jersey to return to normal cargo flow in two or three weeks as vessel backlogs are cleared, and inland bottlenecks addressed.
However, South Atlantic ports and Houston are under pressure to handle cargo diverted from the West Coast, so clearing the vessel backlogs and terminal congestion in those spots may require a couple of months, he said.
Source: Journal of Commerce