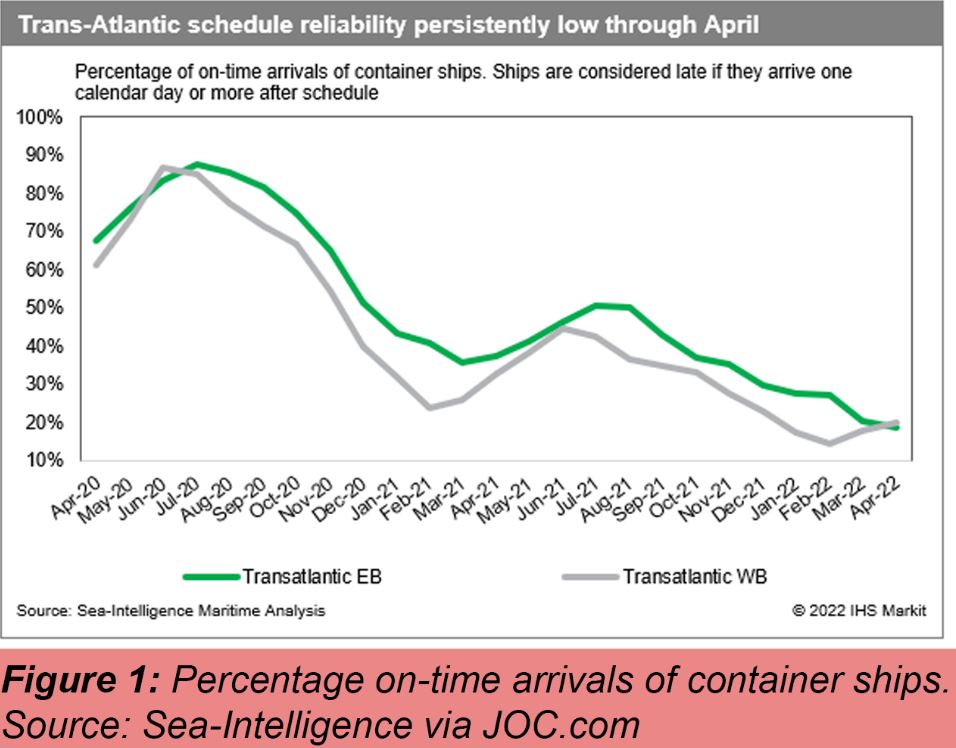 Carriers have warned the Tran-Atlantic's low schedule reliability in April will continue to persist through the rest of the year.
"We do not expect an improvement in schedule disruptions through the end of the year," Matthew Hill, head of the North America import market for Maersk, told JOC.com. "The primary issue will be the continued erosion around schedule reliability and general operational limitations we see across the supply chain on both sides of the ocean."
A Hapag-Lloyd spokesperson held a similar view and said, "We do not expect any improvement in the operating business in the short term. We still see a strong market on the Trans-Atlantic, especially in Northern Europe."
With congestion on both sides of the Atlantic, carriers have been hard pressed to improve schedule reliability. On-time performance of 20% on the headhaul Westbound Trans-Atlantic in April was the highest so far this year, while schedule reliability on the trade averaged 17.4% over the first four months. That compares with 28.6% from January through April 2021 and 60% over the same period in early 2020, according to Sea-Intelligence Maritime Analysis.
Carriers have been blanking sailings on North Europe-North America and Mediterranean-North America in efforts to bring back some schedule integrity. By the end of July, they will have canceled 117 sailings on those trades, data from Drewry shows.
Hill said Maersk was expecting U.S. demand out of Europe to remain stable in the coming months, but the ocean supply chain was so disrupted that the volume would continue to erode schedule reliability. "This will be potentially exacerbated by terminal dwell in the U.S. caused by the growing inventory problems, closures related to the Atlantic hurricane season, and the slower winter crossing associated with the colder months as we head towards the end of the year," he said.
U.S. East Coast import volumes from Europe in May were up 42% y/y at 167,961 TEU, according to data from PIERS.
Source: Journal of Commerce