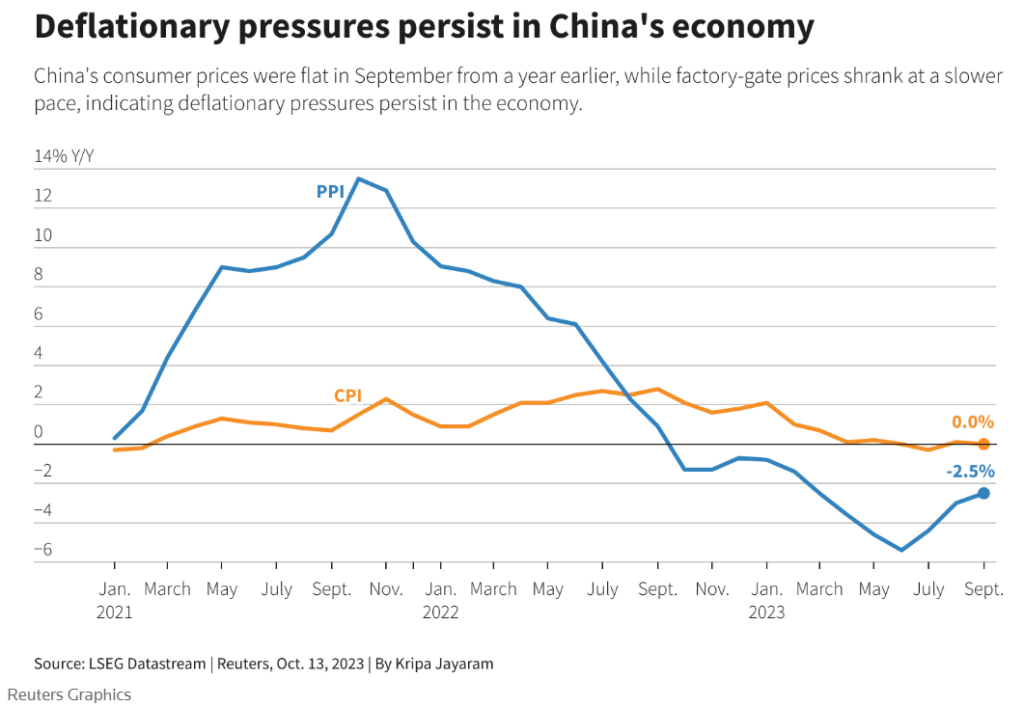 China's consumer prices remain stagnant and factory-gate prices continue to decline, indicating persistent deflationary pressures in the world's second-largest economy. The consumer price index (CPI) remained unchanged in September from a year earlier, falling short of the expected 0.2% gain. Core inflation, excluding food and fuel prices, held steady at 0.8%.
The producer price index (PPI), which measures prices at the factory gate, fell 2.5% from a year earlier, marking the 12th consecutive month of negative territory. While the pace of decline slowed from August, the overall trend remains concerning.
Economists attribute the deflationary pressures to a combination of factors, including the ongoing property sector slowdown, weak domestic demand, and a slowdown in global economic growth. The property sector, a major driver of China's economy, has been in a slump for over a year, weighing on consumer confidence and household demand.
"Zero CPI inflation indicates that deflationary pressure in China is still a real risk to the economy," stated Zhiwei Zhang, chief economist at Pinpoint Asset Management. "The recovery of domestic demand is not strong, without a significant boost from fiscal support."
The Chinese government has implemented a series of policy measures to revive the economy, including increasing infrastructure spending and cutting taxes for businesses. However, these measures have yet to generate significant results.
The International Monetary Fund (IMF) recently lowered its growth forecasts for China, citing the country's property crisis and weak external demand. The IMF now expects China's economy to grow by 3.2% in 2023 and 4.5% in 2024, down from previous estimates of 3.3% and 4.8%, respectively.
Despite the challenges, there are some signs of stabilization in the Chinese economy. Travel during the recent mid-Autumn and National Day holiday period edged up 4.1% from pre-pandemic 2019 levels, although it fell short of official expectations.
China's economic outlook remains uncertain, and the deflationary pressures will need to be addressed to ensure a sustainable recovery.
Source: www.reuters.com