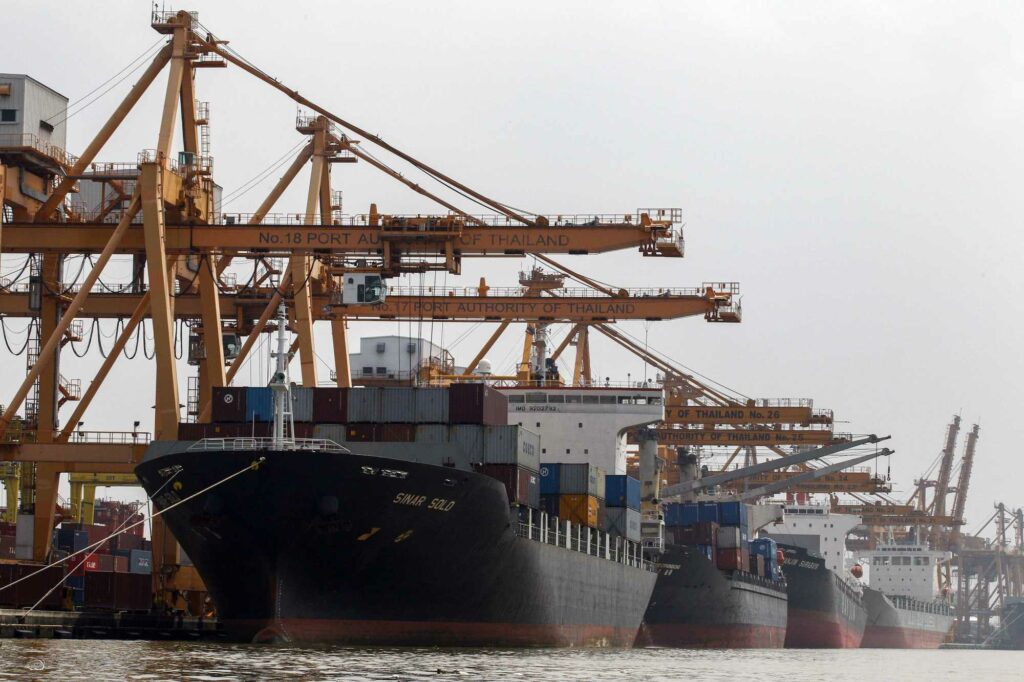 Southeast Asian governments have been beckoning foreign firms with cheaper labor, tax breaks and improved logistics as China's Covid woes rumble on

But analysts say the likes of Malaysia, Thailand, Vietnam and Indonesia will long struggle to match China's deep, integrated supply chain network
Global manufacturers have spread their bets to Southeast Asia – with Intel chips off to Malaysia, Apple AirPods and Lego to Vietnam and Murata capacitors to Thailand – as companies inside China brace for even more Covid-induced misery on top of earlier pandemic controls and punishing US tariffs.
While China's troubles continue, Southeast Asian governments have been beckoning businesses their way with cheaper labor, tax breaks and improved logistics.
Amid a blizzard of warnings from foreign companies that the near-total isolation of the last three years has made the cost of operating in the country too high, China has finally relented on its strict zero-Covid policy that sparked mass protests last year.
But its reopening might already be too late as complex supply chains that take several years to embed shift away from the country, or at least diversify, analysts warn.
Giants such as Apple, Samsung, HP and Dell are ploughing ahead with expensive moves for parts of their operations to factories in Southeast Asia, with an eye on the long-term.
Other smaller firms are relocating too, with footwear, apparel and toy manufacturers also increasingly looking to the Southeast Asia region, whose workers are now several times cheaper to hire than those in China.
"The pandemic made apparent the need to address concentration risk and increase supply chain resilience," said Barbara Weisel, managing director of Rock Creek Global Advisors.
"The US-China trade and tech wars have further prompted companies to diversify their supply chains."
China's leadership remains bullish that the sheer size of its now-open consumer market, as well as its deep wells of skilled labor, technology and connectivity, mean global manufacturers cannot turn away for long.
But analysts warn that capital flight to Southeast Asia is only headed in one direction, as the virus inflicts untold damage in the short-term on China's people and economy.
"China's supply chain partners may not have completely written it off as it's quite expensive to rejig your manufacturing," said Jamus Lim, associate professor of economics at ESSEC Business School Asia-Pacific and a specialist on China and Southeast Asia.
"If they thought that there was a possibility that China would reopen – perhaps after a temporary disruption – they likely would have waited."
But the pandemic forced their hand, as until last month China was bound to the tightest restrictions on movement anywhere for a major economy, closing factories, transport links and ports and leaving the world short of cars, phones and specialist parts.
To Asean the spoils
Southeast Asia had been making its case to manufacturers for several years before the pandemic, with a growing consumer base of its own to add to the allure of new infrastructure and increasingly skilled workers.
The region is a rare economic good-news story in a world sagging under an inflationary crisis and the threat of overlapping recessions – although the Asian Development Bank forecasts growth in the Asean bloc to also slow to 4.7 per cent in 2023 as global consumer demand softens.
Still, the Association of Southeast Asian Nations is expected to have the fourth largest economy in the world by 2030 with a US$4 trillion consumer market, according to a report by consultancy KPMG titled Rethinking Supply Chains in Asia-Pacific, which also highlights the region's investor-friendly reforms.
In Thailand, these include its largest-ever infrastructure investment in the Eastern Economic Corridor along the eastern seaboard, where industrial estates house electric-vehicle assembly lines, biotech and aviation firms, gilded with five- to eight-year corporate tax breaks for foreign businesses.
Sansak Thongroichang, owner of a solar cell company called FaiFaSolar that located in Chonburi, in the heart of the corridor, said it was "great that all these companies are moving their bases here … buying bits and pieces from us and not just taking our workers."
Meanwhile, Japanese company Murata, the world's largest maker of capacitors for phones and power supplies, is set to open a US$90 million factory in northern Thailand over the coming months. It envisages the facility eventually growing to the size of its one in Wuxi, near Shanghai, to dilute risks to its supply chains as geopolitical uncertainty clouds China-based tech firms.
Neighboring Malaysia is also raking in foreign investment for high-value products: the manufacture of electronics in the country jumped 32 per cent year on year in 2022, after it seized the opportunity to plug China's supply gap.
In 2021, foreign direct inflows rocketed to about 209 billion ringgit (US$46.6 billion) – their highest level in about a decade-and-a-half – of which electronics and electricals alone accounted for 81.5 per cent.
Global chip makers have made a beeline for the country, with Intel investing US$7 billion in a semiconductor packaging plant in Penang and Infineon Technologies constructing a fabrication unit in Kulim with an investment of just under US$2 billion.
"Malaysia's competitive advantage is the skills we have in a specific sector, the semiconductor sector," said Farlina Said, a foreign policy and security studies analyst with the Institute of Strategic and International Studies, a think tank based in Kuala Lumpur.
"We have the basis, the tech parks, and we have some of the policies that would assist. We're not the cheapest in the region [for labor] but we have it in specific parts of the supply chain."
However, Malaysia would be wise to be careful of its place in the value chain, observers warn.
"This is good but perhaps this is not good enough … you don't see additional jobs created," said Oh Ei Sun, senior fellow at the Singapore Institute of International Affairs.
"In essence you create some jobs for those who are highly educated, but you don't create a lot of jobs for others because you use foreign labor," he added, referencing workers from Bangladesh, Vietnam and Indonesia.
Shoes, toys and textiles
Vietnam, where Apple makes its AirPods and other iPhone parts, has also sought to drive home its cost advantage to edge out China in a variety of low-value goods. In 2021, foreign direct investment proposals into the country rose 9 per cent year on year to US$31.15 billion, most of which were to make products such as footwear, electronics and electrical appliances, including AirPods and other iPhone add-ons.
Danish toy giant Lego held a groundbreaking ceremony in November for a US$1 billion factory in the southern province of Binh Duong, which will be the company's second Asia facility and sixth worldwide.
In 2021, Vietnam surpassed Bangladesh to become world No 2 in terms of export market share for textiles and garments, behind China.
Vietnam has also been chosen as the main production area for major international shoe brands Nike and Adidas amid the gradual shift away from China.
Resource-rich Indonesia, which has benefited from booming prices for commodities such as palm oil, coal and nickel, plans to tap into expected future demand for electric vehicles. Since 2014, the country has made it easier for companies to buy land in special economic zones, where they get a host of tax benefits.
South Korean industrial conglomerate LG and Japanese electronics giant Panasonic have invested in Southeast Asia's biggest nation.
'Meaningful incentives'
Leading the China exodus are American companies – spooked by years of tariffs and Washington's decoupling rhetoric, which Joe Biden's administration has enthusiastically inherited from his predecessor Donald Trump.
Nearly twice as many US companies as the year before cut their investments in China last year, an American Chamber of Commerce in Shanghai Survey found in October.
About a third redirected their planned China investments to other countries, out of which Southeast Asia emerged as a favorite destination.
The region fits the wider instincts of Western manufacturers, analysts say, who now see Southeast Asia as cheaper or a domestic base as safer than offshoring to China, as they have in recent decades.
Last May, Biden unveiled the US' Indo-Pacific Economic Framework that saw Asean members agree to join hands with economic heavyweights America, Australia, India and Japan with an aim of making resilient supply chains.
It was widely interpreted as a move to reduce reliance on China.
The inclusion of "meaningful incentives" in pacts like the Indo-Pacific Economic Framework is likely to drive this trend, analysts say.
As Southeast Asia courts companies seeking regional sanctuary amid mounting China risks, India and Bangladesh have likewise pushed to attract a slice of the global supply chain.
New Delhi has offered billions of dollars of financial incentives to sectors such as electronic goods, driving up its smartphone exports, with Apple shifting some of its iPhone production to India.
Dhaka, meanwhile, has mainly worked to solidify its position as a top garment manufacturer.
However, a massive diversion of capital has yet to take place, according to economists, because the ease of doing business in these countries has not improved as much as foreign investors had hoped.
"I think that many companies still feel that their bread is buttered on the China side," said Biswajit Dhar, a professor at Jawaharlal Nehru University in Delhi.
China 'hard to replace'
China's gamble is that its huge domestic market and years of building expertise in niche areas will outstay its up and coming regional rivals.
Despite its pandemic disruptions, analysts say China is likely to remain a dominant player because of its mix of easy regulations, low taxes, strong infrastructure and manufacturing nous.
The country is unlikely to be troubled by losing some low-value manufacturing as it knows that it no longer offers a cost advantage, but it will still be tough to beat in a number of specialized products, said Lim, the economics professor.
"It is by far and away not only the cheapest but the only country that produces things like certain gauges of screw or ball bearings," Lim said. "So it's much harder to replace China completely in the value chain."
Yet surging infections across the country in the wake of Beijing's abrupt relaxation of anti-Covid measures are unlikely to bring business as usual back to the industrial sector any time soon.
"We expect manufacturing conditions to remain turbulent in the near term," said Sarah Tan, an economist at Moody's Analytics.
China's factory activity shrank for the third straight month in December, the steepest in nearly three years as a Covid wave hit production lines following Beijing's decision to ease antivirus measures. The official purchasing managers index fell to 47 from 48 last month, according to the National Bureau of Statistics.
Analysts say many East and South Asian countries are likely to have also suffered, to varying degrees, as their supply chains have become wedded to China.
"No single economy's manufacturing hub can replace China with its deep and integrated supply chain network," Tan said. "That does present a strong reason for further diversification for companies in the longer term."
The challenges ahead are multiple for Southeast Asian economies, who still lag China on logistics and range of factory outputs to fulfil the range of global manufacturers' "just-in-time" demands.
"Other countries need to continue to shift not only finished good manufacturing, but also ancillary materials and components as well," said Britton Russell, a director at US-headquartered global consultancy AlixPartners.
Source: Biman Mukherji and Ralph Jennings www.scmp.com