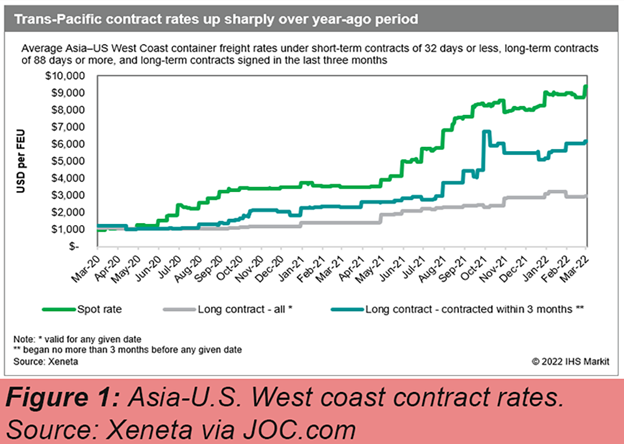 Source: Journal of Commerce
Vessel capacity and service have been prioritized above price. Retailers and Importers have signed long-term contracts at significantly higher levels in Trans-Pacific Eastbound trades than in previous years, Xeneta reported. Rates have continued to climb the past two months even as contract negotiations continue.
"Trans-Pacific contracts are catching up with spot market rates," Alan Murphy, CEO and partner at Sea-Intelligence Maritime told TPM22.
Average rates in long-term contracts of three to 12 months from Asia-U.S. West Coast signed during Dec. 1 through February have risen 125% year-on-year (y/y), and up 350% from pre-COVID-19 (see Figure 1).
East Coast contract rates signed since Dec. 1 are up 160% y/y and 300% from 2019. Xeneta said that importers are heading to the U.S. East Coast "to avoid the congestion and risks associated with the West Coast".
Attendees at TPM22 which included ocean carriers, shippers, NVOs, freight forwarders and industry experts, have said ocean and landside congestion in the U.S. will continue to keep vessel capacity tight and rates are unlikely to ease before 2023.
New vessel deliveries scheduled for 2023 and 2024 will not address the supply/demand challenges in the Trans-Pacific.
Industry analysts pointed out that the International Maritime Organization's 2023 decarbonization regulations targeting greenhouse gas emissions could substantially reduce the deployment of older, smaller Panamex vessels reducing available capacity.