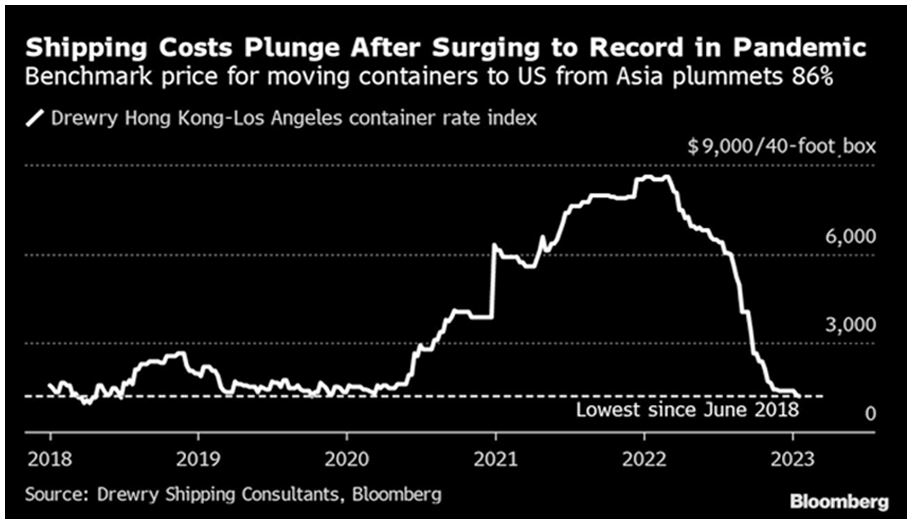 The drop in the cost of shipping containers will help reduce price pressures, Jonathan Ostry, a professor at Georgetown University and the former acting director of the International Monetary Fund's (IMF) Asia and Pacific department wrote in a post on the IMF's website.
In a previous IMF study by Ostry and four colleagues examining the link between shipping costs and prices, they found that inflation picked up by about 0.7% when freight rates doubled.
World container rates climbed more than sixfold by October 2021 from pre-COVID-19 levels.
"Given the actual increase in global shipping costs during 2021, we estimate that the impact on inflation in 2022 was more than two percentage points — a huge effect that few central banks would dismiss," Ostry pointed out.
Some inflation drivers could not be anticipated or were difficult to forecast, such as supply chain disruptions, commodity-price increases owing to Russia's invasion of Ukraine, and the unwinding of pandemic-era savings that boosted demand.
According to an index compiled by Drewry, container shipping costs from Asia to the U.S. has dropped to $1,200 from a high of $8,585 in March last year (see Figure).
Ostry and his colleagues suggest that most of the inflationary impact from shipping costs is over.
"Shipping costs' role as a driver of global inflation is under-recognized — this needs to change," he said.
Source: Transport Topics