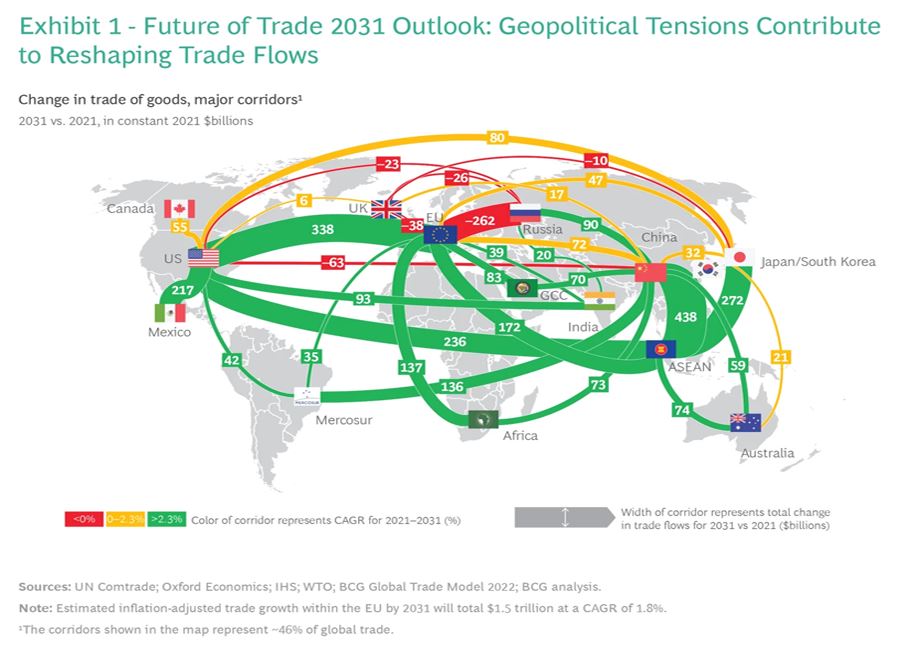 International trade growth will not match the global economic pace over most of the next decade, according to a new report by the Boston Consulting Group (BCG).
Trade patters will change even as the war in Ukraine is reshaping strategic alliances and altering the flow of cross-border commerce.
World trade's annual expansion rate will average 2.3% through 2031, compared with an increase in the global gross domestic product of 2.5% on average each year over the same period, according to forecasts from BCG.
Nikolaus Lang, a BCG managing director and a co-author of the report noted that four major supply chains – energy, agriculture, industrial metals, and semiconductors, account for about 80% of current inflationary price pressures.
BCG outlined that the next nine years of trade upheaval will create the following winners and losers:
The European Union will boost its trade with the U.S. by $338 billion, primarily driven by American energy exports to Europe.
It will also expand its combined trade with Asian countries, Africa, the Middle East, and India.
Trade between the U.S. and China will drop by $63 billion.
Trade growth will also decelerate between the EU and China, growing by $72 billion, which BCG called "a modest increase compared with previous years."
Russia's trade with China and India will grow by $110 billion, "including $90 billion with China alone", the consultancy said.
Southeast Asia will be the main winner, with an estimated $1 trillion in new trade tied largely to new commerce with China, Japan, the U.S., and the EU.
ASEAN trade with China will grow by $438 billion, the largest interregional progress.
Source: American Journal of Transportation