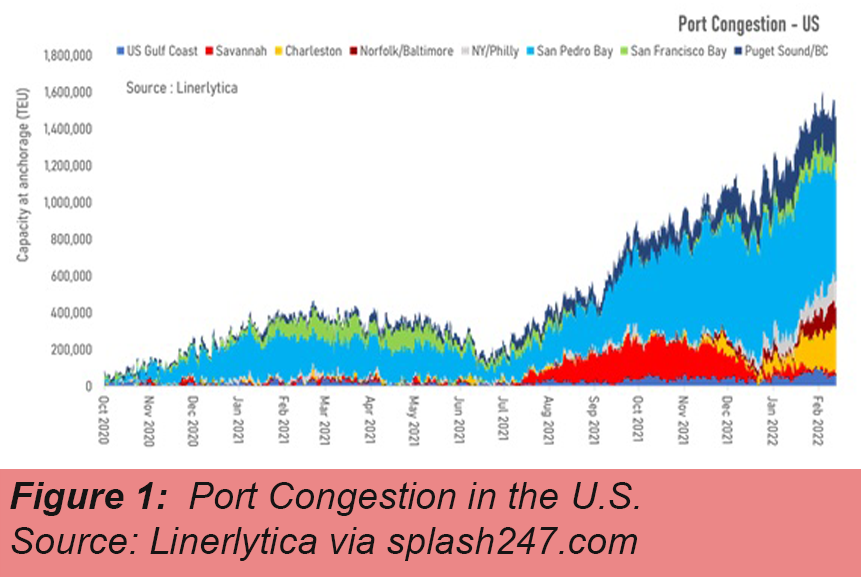 Global port congestion will continue going into Q2, container shipping analysts tell shippers. Asia-based Linerlytica reports escalating port congestion at North America, with ports on both the East and West coasts recording new highs (see Figure 1).
The company calculates that 10% of the global containership fleet, the equivalent of 2.53m TEU, is presently tied up by port congestion.
According to Sea-Intelligence's latest report, a change in the number of deployed vessels will be an element that will feed into congestion issues. The outlooks show a temporary drop for Chinese New Year 2022, followed by a very sharp upwards correction in March/April 2022 (see Figure 2).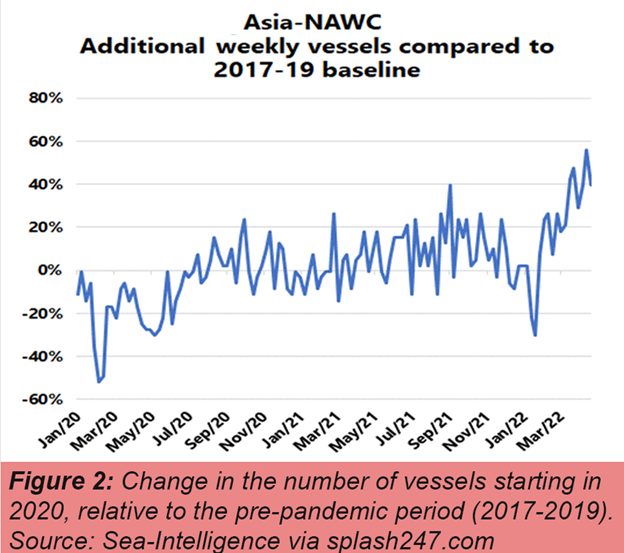 Alan Murphy, CEO of Sea-Intelligence said there are two reasons for this sharp uptick.
First, in March and April, the number of vessels scheduled to depart Asia and subsequently arrive on the North American West coast will increase by 40% compared to the pre-pandemic normality and add to further pressure on the port infrastructure.
Second, there will be a 60% increase in the number of vessels on the Asia-North America East Coast trade lane in the coming months, as carriers try to circumnavigate port congestion on the West Coast. "This will severely increase pressure on the port infrastructure on the East Coast," he added
Alphaliner analysts said vessel delays remain a significant problem in the Asia – North Europe and China – California trades with no improvement since its latest trade surveys published last November. Despite a decline in the overall number of vessels waiting for a berth at Los Angeles/Long Beach from 109 units to 76 ships, the fronthaul transit time for ships sailing from Asia to these twin ports has increased to an average of 38 days, up from the 28 days recorded in mid-November (see Figure 3).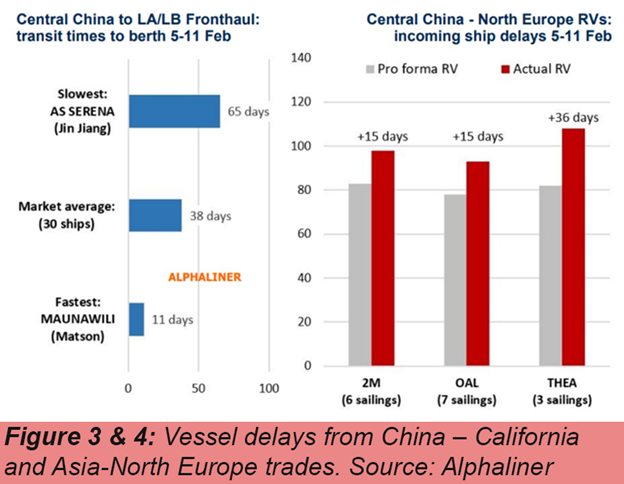 Vessel delays on a full Far East-North Europe round voyage are also unchanged from early November. The 14,000 – 24,000 TEU ships on this route still require on average 17 days more than their pro forma schedules to reach Central China for their next Westbound trip (see Figure 4).