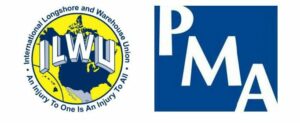 On February 23, the International Longshore and Warehouse Union (ILWU) and the Pacific Maritime Association (PMA) jointly released a statement affirming that they are still engaged in negotiations and are optimistic about achieving a deal in the near future.
The parties have also agreed not to discuss the ongoing negotiations in the media.
The announcement further revealed that both sides have provisionally reached an agreement on several critical matters, such as healthcare benefits.
They remain committed to swiftly resolving any remaining issues and will persist in their efforts until an agreement is achieved.
The negotiations pertain to a contract that commenced on May 10, 2022, in San Francisco and applies to more than 22,000 dockworkers employed at 29 ports on the West Coast.
Source: American Journal of Transportation