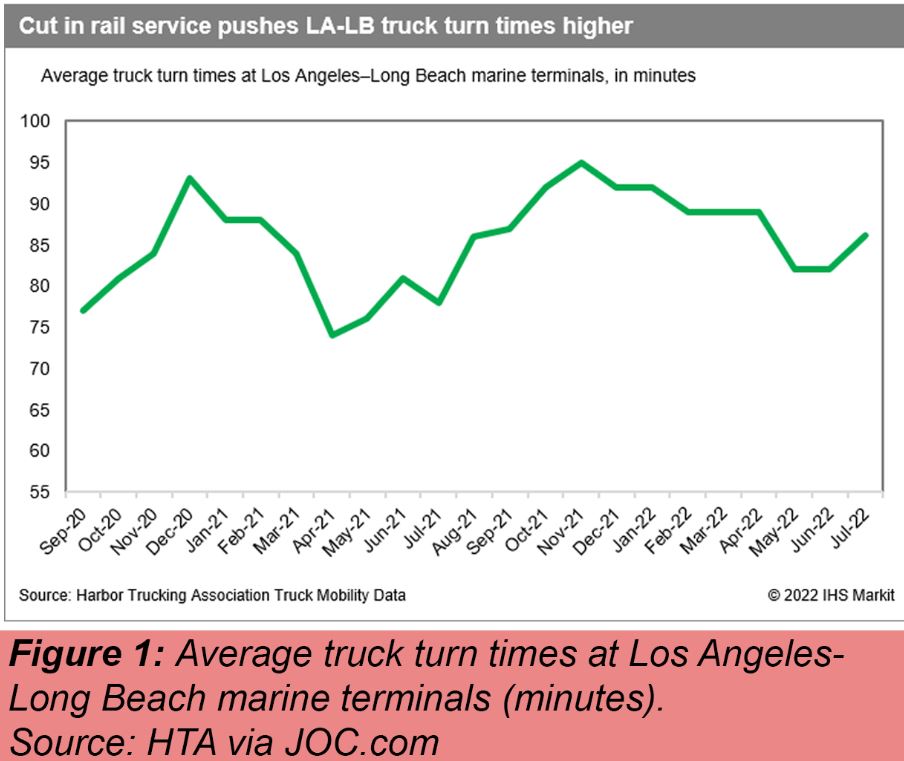 The share of import containers moved by rail from Los Angeles-Long Beach has reached a historical low in the first four months of 2022.
It has fallen from 67.9% in 2019 to 56.8% in 2021 and to 40.8% in January through April, according to the Alameda Corridor Transportation Authority (ACTA).
The average number of intermodal trains serving the ports daily has also dropped from 33 in 2019 to 27 per day through June, according to ACTA.
There are indications that the congestion in rail operations is now affecting truck operations at the terminal gates. Average truck turn times has increased from 82 minutes in May/June to 86 minutes in July, according to the Harbor Trucking Association (HTA) (see Figure).
"It's all correlated. The densification of rail containers on the terminal has a spill-over effect on the entire operation," Noel Hacegaba, deputy executive director and COO at the Port of Long Beach said.
Rail container dwell times in Los Angeles-Long Beach have reached a high of 13.3 days in June, up from an elevated average of 11.3 days in May, according to the Pacific Merchant Shipping Association (PMSA).
Gene Seroka, executive director of the Port of Los Angeles said railroads have been told by the ports for months that the long-dwelling rail containers are a major source of congestion at their marine terminals.
The railroads say they have had to meter intermodal rail volumes from Southern California so as not to overwhelm their already congested ramps in Chicago and other inland hubs. The railroads say those hubs are congested because shippers are not retrieving their inbound containers in a timely manner, noted Seroka. "Their message has been consistent," he said. "Importers have to pick up their containers."
Source: Journal of Commerce