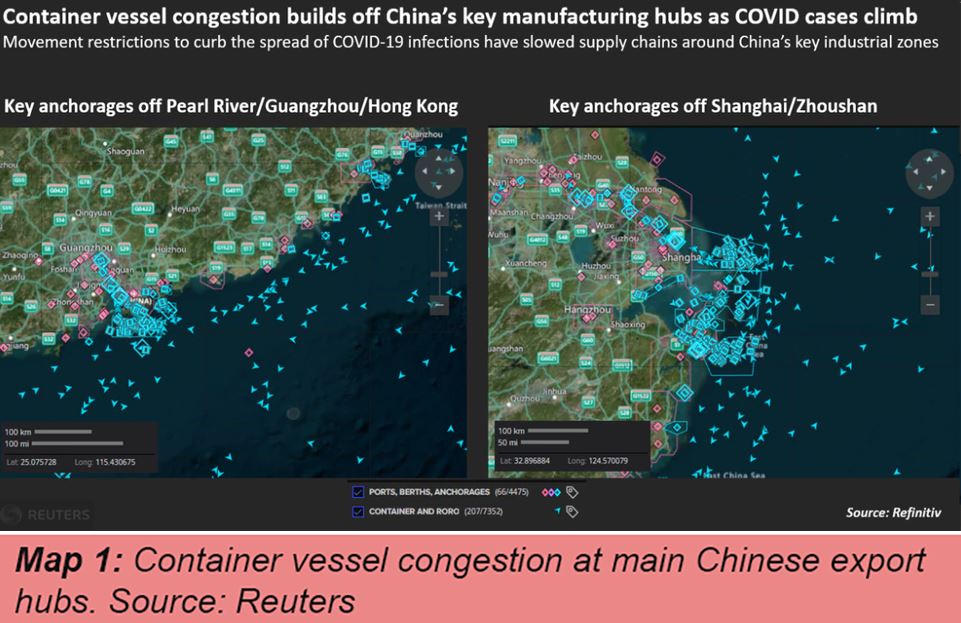 Source: Splash247.com, Reuters
Local authorities have eased lockdown restrictions in Shenzhen, saying the COVID-19 outbreak is now mostly under control.
Factory operations and public transport in four districts including Yantian and a special economic zone have been put back into operation.
Landside logistics and productivity at key manufacturing hubs had been impacted by movement restrictions which began on March 13.
Although ports continued to operate, containership queues have been growing at key Chinese ports with some carriers re-routing services to avoid the congestion (see Map 1).
An advisory from Hapag-Lloyd suggested reduced trucking capacity at many Chinese ports could see cargo volumes diminish temporarily as China battles the omicron surge.
China's zero-tolerance policy increases the likelihood of further lockdowns if cases surge.
Supply chain and logistics operations will face more pressure with implications for rising global inflation. "A slowdown in Chinese exports will exacerbate supply chain delays and reduce
inventories held by businesses, which could drive further price increases," said Niels Rasmussen, Chief Shipping Analyst at BIMCO.