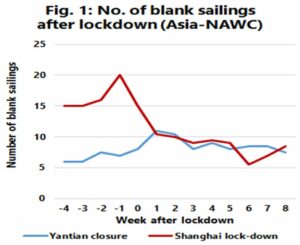 No material impact on blank sailings has yet been observed from the lockdown in Shanghai said Sea-Intelligence.
The lockdown in Shanghai differs from the Yantian closure in 2021 as Shanghai port remains open and operational, Sea-Intelligence said, with the "problematic part" being the closed manufacturing sites and warehouses, as well as a reduction in available trucking capacity.
Excluding blank sailings stemming from Chinese Lunar New Year, the company analyzed the impact of Shanghai's lockdown on blank sailings, comparing it against the period when Yantian port closed in 2021.
Data for Asia-North America West Coast shows the number of blank sailings in 2022 trended downward from a more elevated level. Conversely, blank sailings increased because of the COVID impact in Yantian in 2021 (see Figure 1).
Alan Murphy, CEO at Sea-Intelligence said, "In 2021 following the Yantian impact, it cannot be concluded that the impact on the market is the same. Quite the contrary, there has not yet been any material impact on blank sailings, beyond the normal state of affairs – to the degree than that market prior to the Shanghai lockdown can be called "normal"."
Using the same methodology on other trade lanes, Murphy said there was no impact on Asia-North America East Coast compared to the Yantian impact.
On Asia-Europe, the impact of the Shanghai lockdowns was very similar to that of Yantian in 2021.
Sea-Intelligence cautioned, "It should however be clearly noted that we could still be in an early phase of the Shanghai lockdown, and if the factory closings persist, it is highly likely that the number of blank sailings will begin to increase in the coming weeks."
Source: Sea-Intelligence