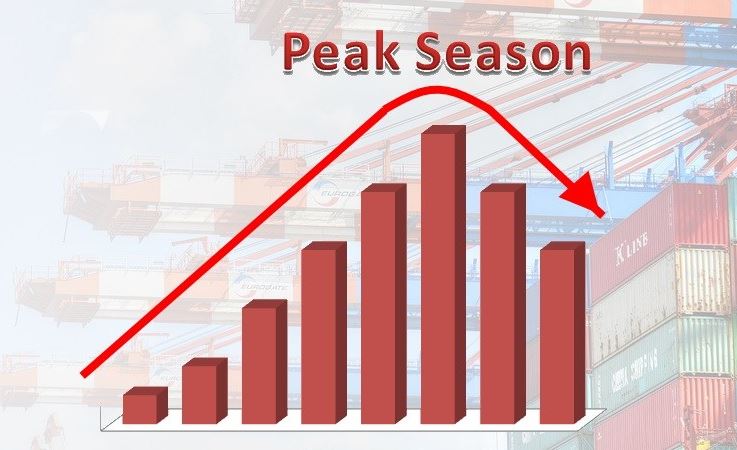 The traditional peak season
Peak season for container shipping typically occurs in the third quarter of each year. This is a time when goods are shipped from manufacturing centers in Asia and elsewhere to Western markets like North America and Europe. Herbert Lee, Shipco's regional director for Hong Kong & South China, describes what happens when demand for shipping services outpaces supply. "Vessels are fully loaded, ports are congested, transit times are lengthened and there are equipment shortages during this period," he details.
Peak season should not be confused with general seasonal freight patterns, which can be short term from week-to-week or similar. Scott Kates, Shipco's national operations manager for LCL Import USA, explains that a key difference is in the time frame. "Peak Season is a more sustained time frame of increased volumes and movement of goods over several months that impact many trade lanes and port pairs instead of only a few select lanes." Mr. Kates says the increased volumes of goods and shipping constraints brought on by limited capacity leads to higher costs due to space restrictions and delays in the actual movement of the goods
Sudden supply shock, abrupt demand recovery
As the first wave of the pandemic spread across countries in 2020, restrictions and shutdowns imposed by most nations led to a sharp decline in both world industrial production and the goods trade. The slowdown of manufacturing, particularly in China, coupled with a contraction in consumer demand worldwide had ocean carriers blanking sailings and consolidating shipping routes to focus on major ports in the first half of 2020. Consequently, global shipping capacity was reduced by -12.9% y/y reports maritime intelligence company eeSea.
Following extended lockdowns, spending on durable goods rose sharply. The surge in e-commerce activity and consumer spending sent demand for shipping skyrocketing. Container trade rebounded in the fourth quarter of 2020, logging an 8% growth quarter-over-quarter according to the United Nations Conference on Trade and Development (UNCTAD).
Andrew Chien, director-LCL development for Asia-Pacific at Shipco says the pandemic not only disrupted the supply chain but also upended how things work. "Pre-COVID, freight markets used to be very consistent, even though it was not stable. Supply chains were at equilibrium and global movement was predictable. The supply chain disruption brought on by COVID-19 has driven up rates, even though when you take a broader view, the overall demand is not higher than the overall supply. What is happening is that supply does not appear at the right place at the right time."
One long peak
Demand from Western consumers in the U.S. and European economies sustained the flow of goods in 2021, says Anders Christensen, director, business development for Europe at Shipco. "Broadly speaking, we had one long peak lasting from December 2020 until China's Lunar New Year 2022. There was a constant lack of equipment coupled with too much cargo and lengthening transit times with no predictability. Meanwhile, rates kept increasing while service worsened no matter what was paid." An analysis by Sea-Intelligence using schedule reliability and freight rates data gathered from the World Container Index (WCI) found there was no correlation between freight rates and reliability. Instead, the analysis showed reliability improved with overcapacity as it was easier to stick to vessel schedules
Peak season is not what it used to be
It can be challenging to distinguish peak conditions under current market conditions. Mr. Kates explains that an overall increase in cargo volumes is the reason why the shift to peak season in 2022 will be less distinctive compared to pre-pandemic years. "While there will be a peak season, the industry is already running at much higher volumes than in the past. This reflects in less dramatic shifts from a slower period to "peak" period in the perception of staff and clients," he postulates.
In pre-COVID years, ocean carriers would introduce increases as a peak season surcharge. In the past two years, they have simply increased freight rates. Shipco's regional manager, carrier relations for APAC, Ulrik Holck says, "The new contract season for the Trans-Pacific Eastbound corridor started off with all new long-term contracts including a peak season surcharge from the very beginning," which is why, to some, there is no obvious peak this year.
"The expectation was that volumes would increase again once Shanghai opened, but the rush has not come. We are seeing space opening up especially to the U.S. West Coast and the rates have fallen considerably," Mr. Holck says.
Even though peak season is not what it used to be, there continues to be peak season-related activity. There are still factors driving it, from the seasonal nature of business activity and cargo flows, to increased e-commerce activity, among others. This is simply not a peak season in the traditional sense. Jens Pottschul, director, business development for Asia-Pacific at Shipco summarizes, "The shipping cycle of the past two years has not been normal and there are no signs that we will see normality in the mid-term future."
Getting a head start
Shippers looking to get ahead of peak season congestion and avoid a repeat of 2021 are moving volumes earlier than usual.
Sea-Intelligence reports evidence of an early peak season, particularly on the Trans-Pacific trade. Weekly deployed capacity scales up to 646,500 TEU in the week ending June 5 (week 22) and is projected to remain at that level through August 7 (week 31) . The increase will be led by non-alliance carriers that are forecast to boost capacity by 20% to 35% on Asia-North America West Coast services.
On Asia-Europe trade, Sea-Intelligence says the increase in offered capacity in the week ending June 5 brings offered capacity in line with the peak season in 2021. Another increase in the week ending July 24 (week 29) will bring the weekly offered capacity over the 500,000 TEU mark, higher than in any week in the 2019-2022 period.
Plan ahead to get ahead
Although this year's high-demand and tight-capacity dynamic creates challenges, the risks can be minimized by forward planning. "The key to tackling peak season is having advanced planning and a strategy to be proactive in areas of higher constraints. This will assist to navigate different routings to maximize flow of the cargo, or at minimum to be in front of potential issues to the best of your ability," Mr. Kates advises.
Source: Shipco Transport