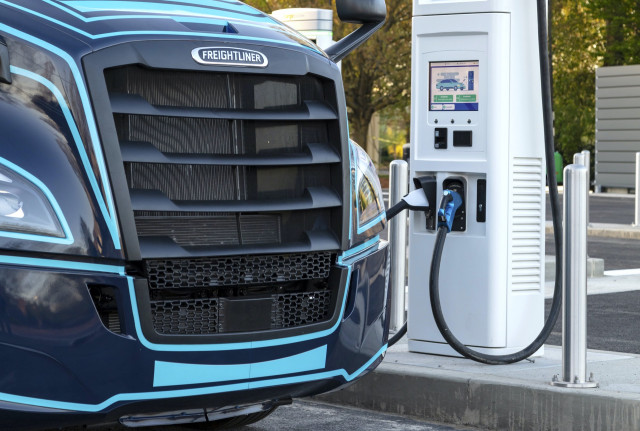 The Los Angeles Cleantech Incubator (LACI) has received a $1.5 million grant from the U.S. Department of Housing and Urban Development to install public charging infrastructure for electric heavy-duty trucks.
The charging depot will be located at the Port of Los Angeles and will be the port's first-ever public electric truck fast-charging station. The chargers will be capable of providing electric drayage trucks with a full charge in half an hour.
"The success of our clean energy future requires investments in charging infrastructure today," said California State Rep. Nanette Barragán, who helped secure the grant. "LACI has the vision and capacity to accelerate the adoption of EV heavy-duty drayage trucks in support of decarbonization goals and to improve the health and welfare of our frontline communities."
LACI's Transportation Electrification Partnership (TEP) has set a target for 40% of all short-haul drayage trucks to be zero emissions and 60% of all medium-duty delivery trucks to be electric by the time of the 2028 Olympic and Paralympic Games.
The Ports of Los Angeles and Long Beach's Joint Clean Air Action Plan requires 100% of the drayage trucks registered and serving the ports to be zero emissions by 2035.
The new charging infrastructure will help to support the transition to zero-emission drayage trucks and will help to improve air quality in the region.
In addition to the charging infrastructure, LACI will also provide technical assistance to businesses and fleet operators that are interested in transitioning to electric trucks.
"This grant is a major step forward in our efforts to accelerate the adoption of electric trucks," said Matt Petersen, CEO of LACI. "We are grateful to HUD for their support, and we look forward to working with our partners to make this project a success."
The new charging depot is expected to be completed in 2024.
Source:  ngtnews.com