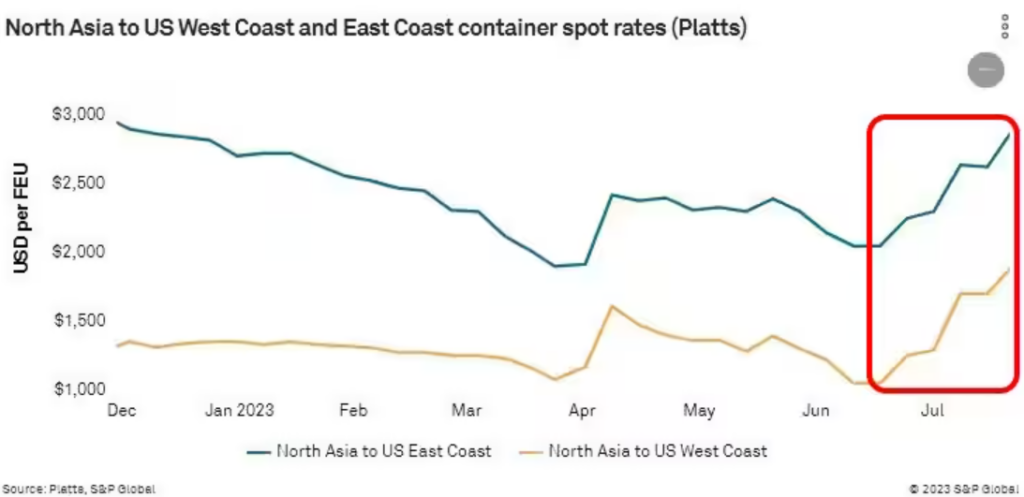 After a long bear market in rates since early 2022, the trans-Pacific is tightening.
A combination of a mere hint of a peak season and aggressive capacity withdrawals by carriers enabled the lines to implement general rate increases on April 15, June 1 and July 1.
That elevated spot rates to the U.S. West Coast by 70% to current levels of $1,600 to $1,700 per FEU to the West Coast, up from a low of about $1,000 as recently as June.
Expectations are that even with the anemic peak under way, reflecting consumers' spending redirected to services, vessel space will continue to tighten at least somewhat during what remains of the traditional peak period through the fourth quarter.
The recent market tightness is manifested at origin where NVOs and shippers were beginning to report some containers being rolled to subsequent departures from Asian ports.
This is happening either because a particular weekly service was blanked or because the shipper's container was bumped from the vessel by higher-paying cargo.
"Our cargo 'is being rolled, even though we were supposed to have an allocation,'" David Bennett, chief commercial officer of the forwarder Farrow, told the Journal of Commerce.
Source: Journal of Commerce