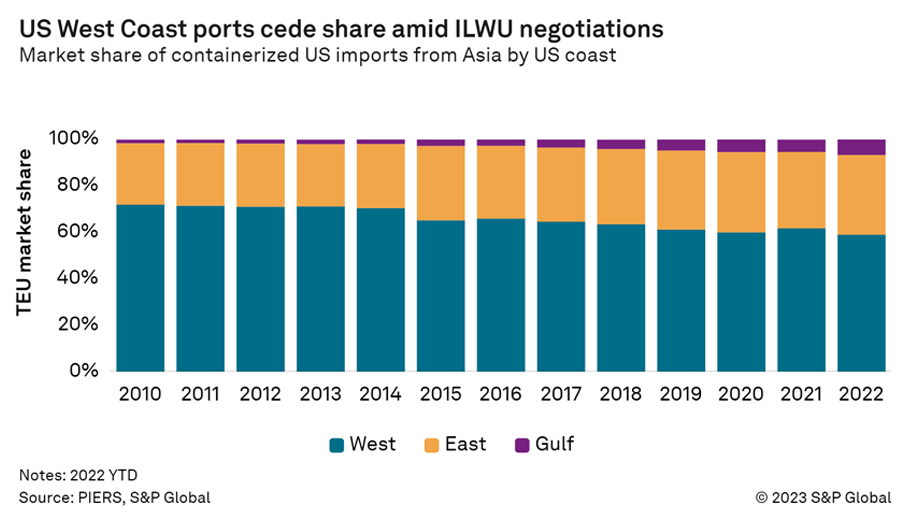 Negotiations between West Coast dockworkers and marine terminal employers have resumed following a nine-month stalemate due to a jurisdictional dispute over Terminal 5 in Seattle.
The International Longshore and Warehouse Union (ILWU) and the Pacific Maritime Association (PMA) have agreed to set the matter aside and focus on negotiating a new contract, as the previous one expired in July 2022.
The decision to return to negotiations suggests that both parties are facing increasing pressure to reach an agreement.
Port and terminal stakeholders are unhappy about the cargo loss at West Coast ports, while beneficial cargo owners are frustrated with the impasse and warn that it could cause permanent damage to business at West Coast ports.
At the same time, Trans-Pacific shipping lines are in the process of negotiating new service contracts with retailers and other importers that will come into effect on May 1 for the 2023-24 service year.
These contracts involve routing decisions, in which shippers declare minimum quantity commitments (MQCs) on West, East, and Gulf coast services from Asia. Retailers are choosing to use other ports for their goods due to the perceived uncertainty surrounding the contract talks.
According to PIERS, a sister company within S&P Global, since last fall, Los Angeles-Long Beach and the Northwest Seaport Alliance of Seattle and Tacoma have seen year-over-year declines in US imports from Asia. In contrast, imports through major East and Gulf coast ports have increased (see Figure).