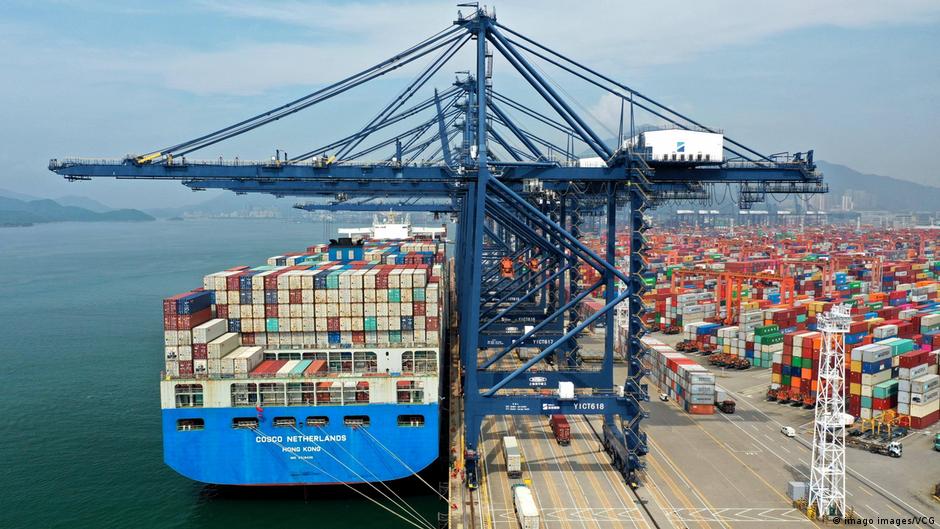 The average contract cost to ship a container from China to the U.S. West Coast fell from $8,607 last April to $2,618 in February
Retailers in the U.S. hope to slash shipping costs and save millions of dollars when they sit down later this month to negotiate long-term contracts with ocean carriers following last year's surge in rates.
Some companies expect to cut ocean-freight rates by half or more, which in turn could allow retailers to slow or stop price increases for goods.
Richard Galanti, chief financial officer of Costco Wholesale Corp. , said lower freight rates should lead to price cuts at the members-only retailer, which imports more than 200,000 containers a year from Asia. "If it is costing us less to bring a product from Asia to the coast of North America we are going to reflect that in our merchandise," Mr. Galanti said.
Jon Cargill, senior vice president and chief financial officer of Hobby Lobby Stores Inc., one of the largest U.S. importers with almost 1,000 stores nationwide, said of reduced ocean rates: "It will probably be the most significant cost savings our company will experience this year over 2022."
Mr. Cargill, like many retail executives, expects to begin weekslong ocean contract negotiations at the annual TPM conference, produced by the Journal of Commerce in Long Beach, Calif., starting on Feb. 26.
The average contract cost of shipping a container from China to the U.S. West Coast was $2,618 as of Feb. 9, according to Xeneta, a Norway-based transportation data firm, reflecting lower freight demand as retailers cut orders and consumer spending continues to decline.
The rate rose to $8,607 on April 1, 2022, from $3,174 a year earlier. At the time, importers were desperate to secure space on ships for the summer and fall seasons and many signed contracts at double the previous year's rates, according to shippers.
Last year's negotiations took place as dozens of container ships were backed up off the coast of California waiting to unload cargo. Shipping volumes had surged as consumers spent more on goods during the Covid-19 pandemic. A 20% increase in freight snarled supply chains because of a lack of space on docks and in warehouses as well as a shortage of truckers and trucking equipment.
The bottlenecks—which eased through last year—caused transit times for cargo to more than double and supply chain costs to balloon, helping push inflation to a four-decade high last year.
An International Monetary Fund study found that when ocean-freight rates double it causes inflation to rise by 0.7 percentage point. Jonathan Ostry, a Georgetown University professor and a co-author of the study, said cutting shipping rates in half should reduce inflation by the same amount.
Importers expect this year's contract talks to be different. Many retailers have pulled back on orders while working through a backlog of inventory. As a result, cargo volumes are weak and ocean carriers are scrambling to fill space on ships.
In the ocean-shipping spot market, where importers book containers without a contract, rates have dropped to $1,000 on some trans-Pacific routes.
"With underlying demand that weak, the long-term contract levels are also coming down fast," said Peter Sand, Xeneta's chief analyst.
Shipping companies already are signaling the impact of weakening demand. A.P. Moller-Maersk A/S, one of the world's largest ocean-shipping companies, expects its earnings to fall nearly 80% this year.
Party City Holdco, Inc., last year signed contracts at about $10,000 to ship a container from Asia to the U.S. East Coast, roughly double what the party-supplies retailer and wholesaler paid the year before, said Bruce Dzinski, its director of international transportation.
This year, Mr. Dzinski hopes to secure contracts between $3,000 and $4,000 a box, about what Woodcliff Lake, N.J.-based Party City paid before the pandemic. "It's going to be tricky waters to navigate but right now they do seem pretty desperate to fill the space," he said.
Retailers warn they still face pressures from high energy, labor, raw materials and other costs. But they say lower ocean shipping expenses will help in steadying prices.
"We have gone through such an incredibly painful period of overpriced ocean freight," said Rich Israelsen, chief executive of Downeast Outfitters, Inc., a retailer selling furniture and apparel across Utah, Idaho, Nevada and Arizona. "Boy, we would love to settle into a rate that we can depend on."
Source:  Paul Berger wsj.com