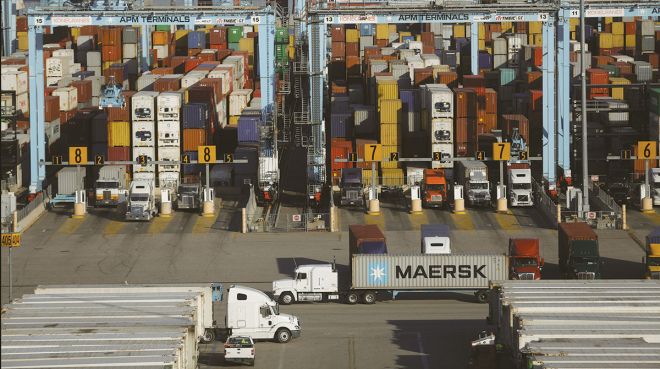 Last year, many headlines were focused on supply chain challenges that were impacting retail and every other industry. The nation's ports saw congestion on the water with vessels backed up, as well as on land with terminals full of both loaded and empty containers. There were difficulties with finding enough truckers, a shortage of chassis to carry the containers, and ongoing challenges with rail operations.
A year later, we're no longer seeing daily news stories about supply chain congestion, leading many to assume the challenges have been resolved. While supply chain operations have certainly improved over the past year, this is mainly due to the fact that import volumes have significantly dropped from where they were during the height of the pandemic.
According to the most recent NRF Global Port Tracker report, import cargo volume at the nation's major container ports should climb steadily through this summer but will remain below record-setting levels seen during most of the
NRF forecasts positive growth for the retail industry as consumers continue to spend. However, economic challenges remain, and persistent inflation is certainly front and center. Will consumers keep spending, or will they start to pull back to focus on necessities?
On top of this, there remain many outstanding issues that have plagued the supply chain for years. These issues were exacerbated by the pandemic and right now, while volumes are low, is the time to collectively address them. That includes the need for better information sharing and coordination among supply chain partners to better plan and prepare for the next disruption.
One such disruption is starting to impact West Coast ports, where the contract between the International Longshore and Warehouse Union and the Pacific Maritime Association expired last summer. NRF called on the parties to begin negotiations early rather than waiting until right before the contract expired on July 1, but they didn't start until mid-May. Most importantly, NRF urged the parties not to engage in disruptive activity of any sort during the negotiations.
Unfortunately, a new agreement has not been reached and disruptions are being seen at the Ports of Los Angeles and Long Beach, where the PMA says labor failed to show up for two consecutive shifts in early April. Since then, the union has continued to disrupt operations with slow dispatching and "red tagging" equipment for safety concerns. NRF issued a statement calling for the union and management to return to the table, and also called for the Biden administration to engage with both parties to achieve a final contract.
While there are certainly issues that need to be addressed regarding port operations (data standardization, excessive dwell fees, empty container returns, etc.), adding labor disruptions to the mix further complicates supply chain resiliency efforts.
Many shippers — including NRF members — took steps prior to the contract expiration to ensure they would not be significantly impacted by potential disruptions, including shifting cargo to East Coast and Gulf Coast ports. Until a contract is settled and ratified, the cargo won't shift back to the West Coast, which will have its own impact on the supply chain.
Retailers continue to focus on supply chain resiliency. That includes diversification of suppliers and sourcing as well as supply chain partners, including what ports are used. It's time to focus on addressing long-standing supply chain issues to ensure we are prepared when large import volumes return or the next major disruption episode occurs.
Source: www.nrf.com