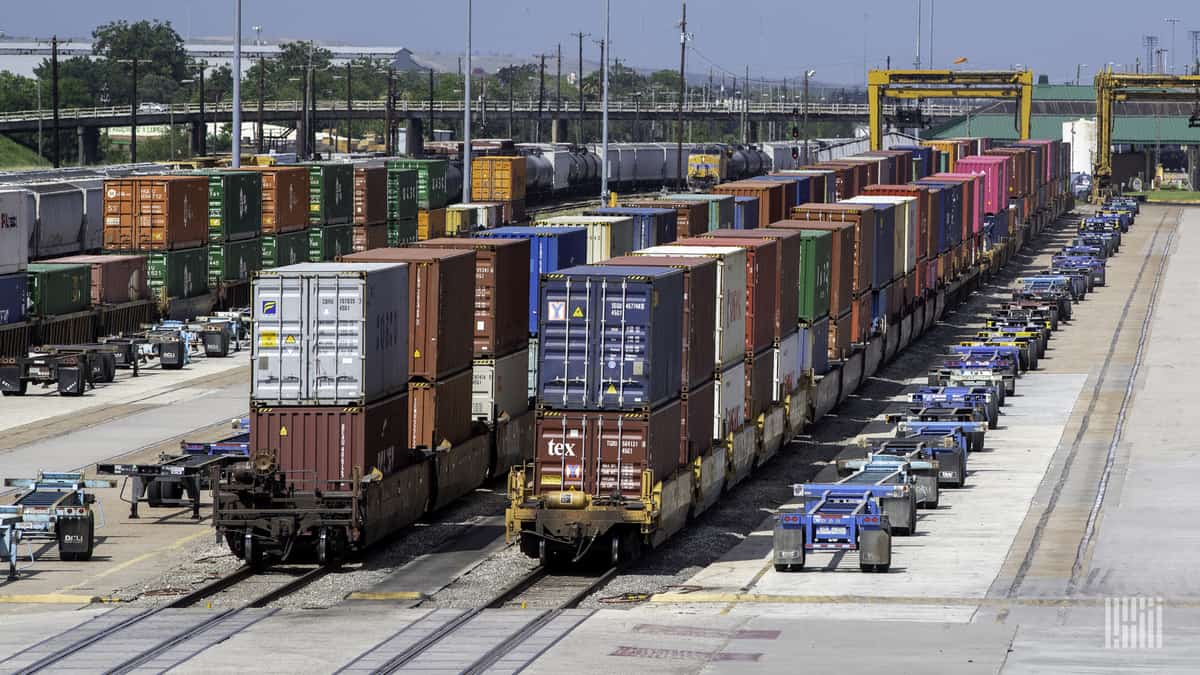 A list of challenges including weaker demand, a competitive truck market and a shift in U.S. port activity away from the West Coast to East and Gulf ports that utilize shorter inland hauls, point to a challenging 2023 for rail intermodal, predicts FTR Transportation Intelligence.
During a webinar, Todd Tranausky, FTR vice president for rail and intermodal, said that both domestic and international rail intermodal segments will face an uphill battle in 2023.
However, he noted growth could happen in the fourth quarter amid peak season.
Intermodal's ability to compete with trucks has steadily eroded since the second half of 2022, and that will persist through the middle point of this year, according to Tranausky. "Intermodal [will have] an uphill climb relative to truckload in terms of attracting volume, and this just piles on in addition to the port shifts [that call for more short-haul than long-haul movements]," he said.
Despite a market environment favoring trucks, the response by railroads to pricing pressure will determine whether rail shippers see better rates, considering the higher operational costs following new labor agreements, Tranausky pointed out.
The slowdown of U.S. imports has unevenly impacted ports across the region.
California ports have been hardest hit due in part to congestion from earlier in 2022 and the labor situation at West Coast ports. In contrast, import activity in the U.S. Southeast has started to ease back but not to the extent of California, while Gulf Coast container activity remains robust, FTR Chief Intelligence Officer Jonathan Sparks said.
In the trucking space, diesel prices and insurance are expected to put pressure on carriers, particularly those that operate primarily in the spot market, Avery Vise, FTR vice president for trucking pointed out. FTR's estimate for active truck utilization, which the group says serves as a market tightness barometer, indicated utilization rates stayed high in 2021 and into the first couple of months in 2022 before falling sharply below a 10-year average.
Vise believes that rates could continue to soften over the next several months, potentially bottoming out around the third quarter of this year. But if the U.S. economy recovers heading into 2024, the trucking utilization rate could see a steeper upside as it seeks to catch up going into the new year, he said.
Source: American Shipper