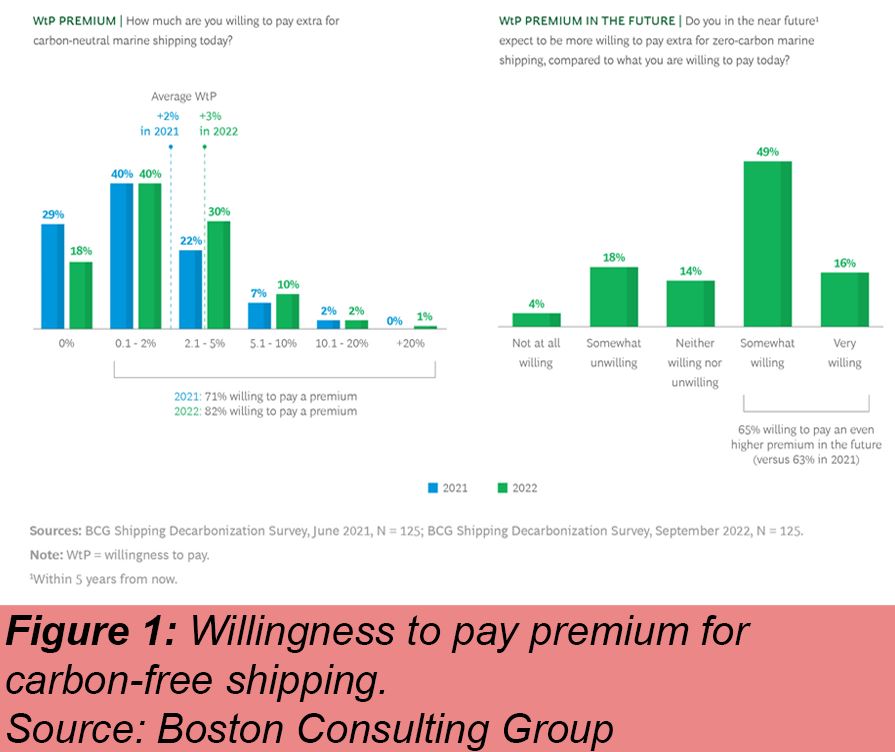 A key finding from Boston Consulting Group's (BCG) new report "Customers' Willingness to Pay Can Turn the Tide Towards Decarbonized Shipping" shows the urgency to address climate issues in the sector have grown.
Of those surveyed, 82% are prepared to pay extra for CO2-neutral transportation, up from 71% a year ago (see Figure).
The average premium comes up to 3%, a year-on-year increase of more than 30% in 2022, the equivalent of between $10 billion and $20 billion in extra revenue for the shipping sector.
However, a 3% premium is not enough to fund decarbonization, which requires a premium of 10-15%.
The report found a greater willingness toward paying extra for CO2-neutral transportation.
The segment of customers inclined to do so increased by 11% compared to 2021 while the share of shippers with a low willingness to pay extra has declined to 30%, from 40% last year. 65% declare themselves ready to pay even more in the future.
Legislation is frequently cited as the reason for the willingness to pay more for carbon-free shipping, but end-customer demand is increasingly playing a role, rising from 29% to 34%.
63% of respondents agreed that using carbon-neutral shipping can bring competitive advantages, compared with 59% in 2021.
Speaking on the report findings, Peter Jameson, Partner Infrastructure, Cities & Transport, BCG, said, "The findings from this year's report show great promise, with the share of customers willing to pay a premium 10% higher than in 2021.
Failure to act will mean the 10-15% premium needed to fund decarbonization now will not be achieved for another five years. We must be intentional today to meet the goals for 2050."
The report, which surveyed 125 major shipping players from around the globe in September 2022, builds on the original survey, published in June 2021.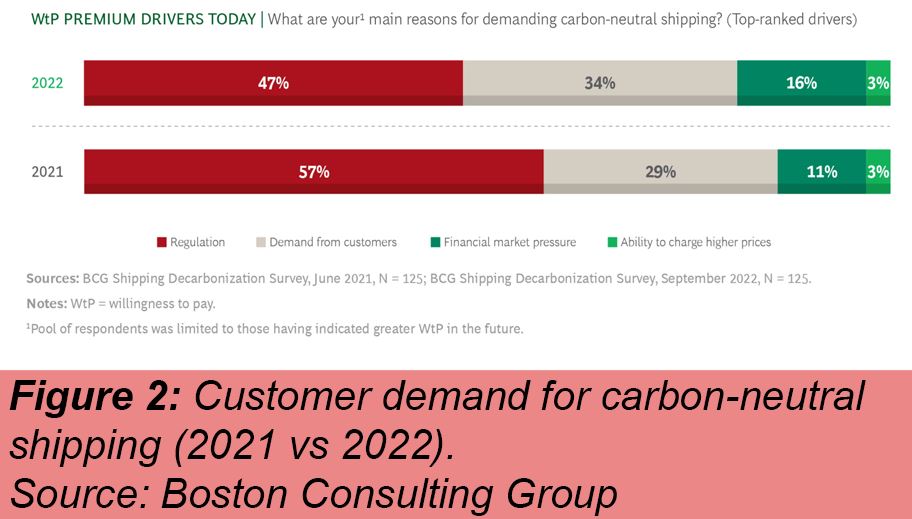 Source: Boston Consulting Group