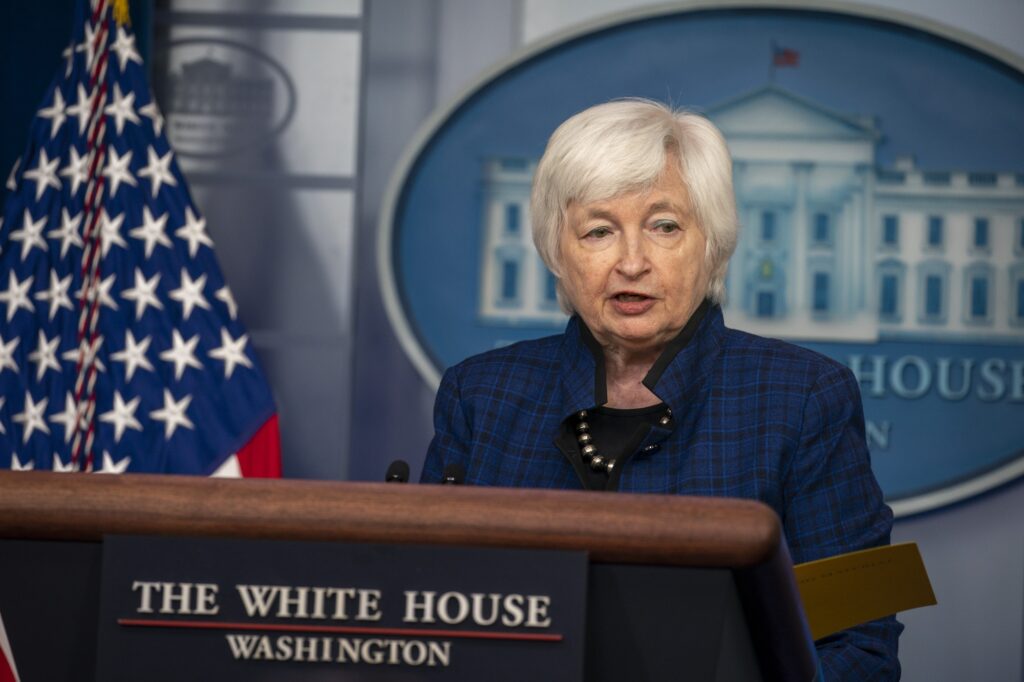 US Treasury Secretary Janet Yellen's visit to China has sparked optimism in Beijing that the Trump-era tariffs on Chinese imports could see some alleviation as she endeavors to improve relations between the two countries. However, the presence of robust anti-China sentiment within the US may pose significant obstacles to the realization of such tariff cuts.
According to trade and political analysts in Washington, the decision to reduce certain "Section 301" tariffs could bring about benefits for US companies, consumers, and Chinese exporters alike. However, such a move would also expose President Biden to intense Republican criticism, especially during a precarious period.
"The political calculus is quite evident," remarked Harry Broadman, a former White House, World Bank, and US trade official, currently serving as a managing director with Berkeley Research Group. "That move would undoubtedly be used as ammunition by the opposition."
Broadman warned that appearing lenient on China might pose a risk to President Biden's chances in the 2024 presidential election, given the prevalent anti-China sentiment in the US, which has been further stoked by former President Donald Trump's China policies over the past four years.
Last week, US Treasury Secretary Janet Yellen engaged in extensive discussions with China's top economic officials and Premier Li Qiang, dedicating an intensive 10 hours over two days to address trade issues and other policy differences. Yellen expressed her belief that these meetings had laid the foundation for a more stable US-China relationship.
During these discussions, topics included US tariffs, high technology export controls, and concerns over Beijing's new anti-espionage law, which has raised worries about the impact on US companies operating in China. While Yellen made no public statement regarding potential tariff adjustments, Chinese commentators remained hopeful, especially in light of a US Trade Representative review currently underway.
In response, on Monday, China's Finance Ministry issued a statement urging the US to take specific actions, including the cancellation of punitive tariffs, the rollback of export curbs, and the termination of import bans from Xinjiang province. The situation remains closely monitored by both nations and the international community, as they seek ways to navigate the complex trade and policy landscape.
According to Hong Hao, chief executive of Grow Investment Group in Hong Kong, US Treasury Secretary Janet Yellen holds influence in the next phase of the US's four-year tariff review. While certain technological restrictions on China may continue, there is a possibility of reducing or exempting non-core tariffs against China.
Surprisingly, even China's state-run Global Times, known for its critical stance on the US, praised Yellen as a "professional and pragmatic" official capable of influencing the Biden administration to take steps towards improving the economic relationship between the two countries.
Last year, Yellen suggested the elimination of duties on "non-strategic" goods to alleviate specific costs amid high inflation. However, Chad Bown, a trade economist at the Peterson Institute of International Economics, cautions that political pressure to increase China tariffs is growing, leaving little appetite for reducing them. US officials have remained tight-lipped on any response to China's call for action.
Collections of US tariffs on Chinese goods reached $49 billion in fiscal 2022, accumulating to a total of $182.9 billion from US importers over four years, as per US customs data. Meanwhile, US imports from China have declined by 24% so far this year.
Hardline members of the US Republican party, who lead discussions on China, took to social media to mock Yellen for what they perceived as a gesture of deference to Chinese vice premier He Lifeng at a meeting. Firebrand Republican Senator Josh Hawley criticized this as "embarrassing groveling to China."
Republican presidential hopefuls, including Florida Governor Ron DeSantis and former UN Ambassador Nikki Haley, have outlined specific plans to confront China on trade. Haley advocates revoking China's permanent normal trade relations status until it addresses its alleged role in the fentanyl trade. She has also proposed pushing Congress to take this step.
Former President Donald Trump, the leading contender in the Republican field, asserted that he would demand China remove alleged spy capability in Cuba within 48 hours. If China fails to comply, his administration would impose new tariffs. These developments reflect the charged political climate surrounding US-China relations and the forthcoming decisions that could have significant ramifications.
Source: www.thedailystar.net / Washington Reuters