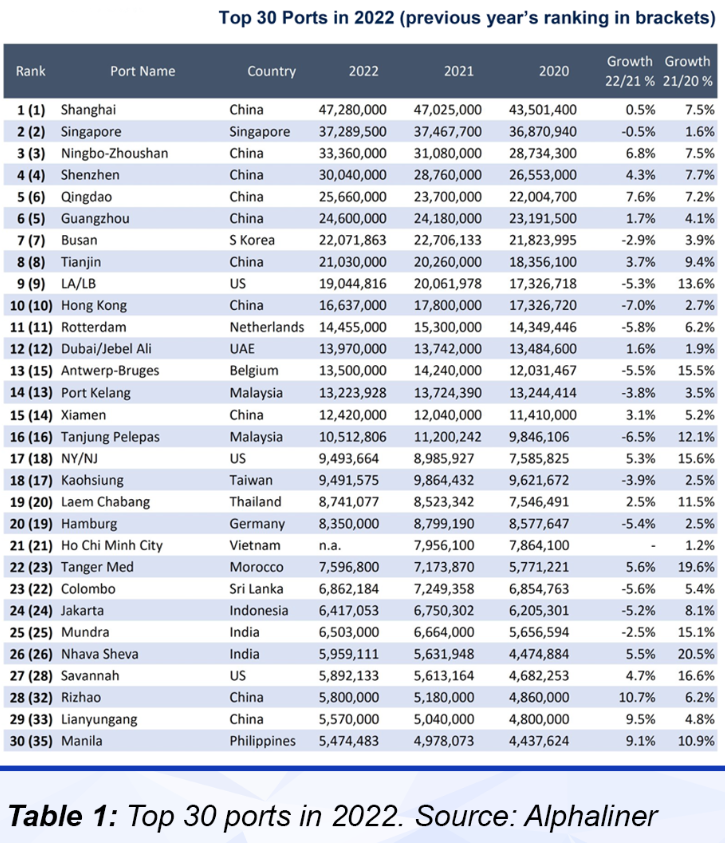 The world's 30 busiest container ports saw growth slow in 2022.
According to Alphaliner, volumes at the 30 busiest ports rose by less than 1% year-on-year (y/y) to 454 million TEU in 2022.
China was the main driver of the gains and, to a lesser extent, the Middle East.
China's top 10 ports achieved a new record of 222 million TEUs, an increase of 4.1% year-on-year, although, in comparison, the result indicated a slower growth than the 6.2% in 2021.
Tanger Med also displayed strong performance, increasing by 5.6% to 7.6 million TEU, while Dubai throughput remained stable at 13.9 million TEU, a 1.6% increase in 2021.
Volume declines were widespread across many other ports in Europe, the Indian sub-continent, and the rest of Asia, Alphaliner reported.
Europe's three busiest ports, Rotterdam, Antwerp-Bruges and Hamburg, recorded falling volumes of -5.8%, -5.5%, and -5.4%, respectively. India's Mundra port logged a -2.5% y/y volume drop, while in Sri Lanka, Colombo's throughput fell 5.6%.
Asian ports such as Singapore, Busan, Port Kelang, Tanjung Pelepas, Kaohsiung, and Jakarta, recorded volume declines ranging from -0.5% to -6.5%.
In the U.S., the East Coast ports of New York/New Jersey and Savannah continued their growth, registering volume increases of 5.3% and 4.7%, respectively.
In comparison, Los Angeles' throughput fell -5.3%, giving over its position as the busiest U.S. container port.
New York/New Jersey has outperformed Los Angeles in five of the last eight months.
Source: Container News