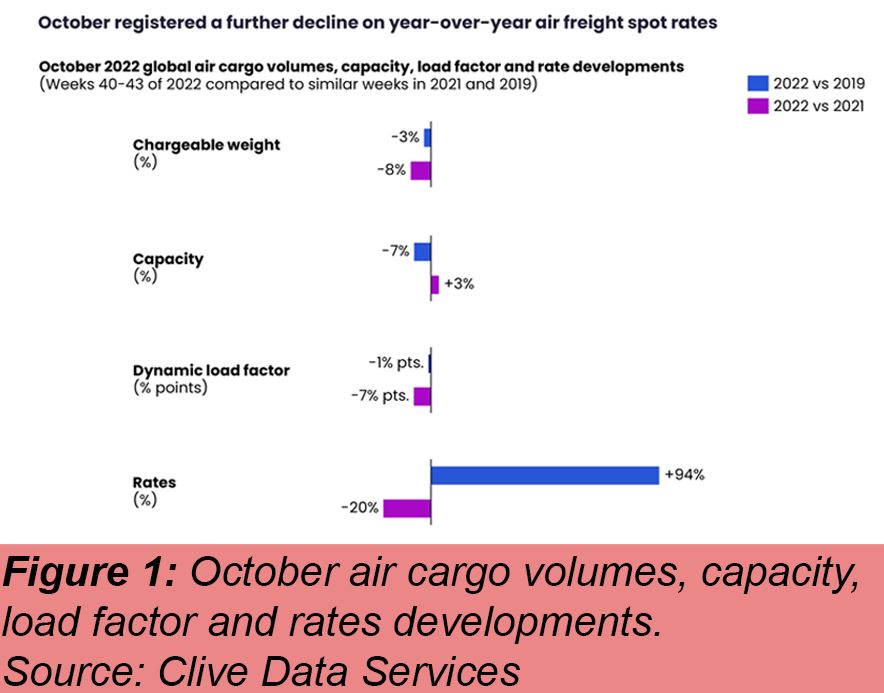 According to CLIVE Data Services, air cargo volumes have declined -8% year-on-year, for an eighth consecutive month in October.
The market outlook "remains uncertain" with "no indication there will be a peak" during the traditional Christmas peak weeks, said CLIVE.
The drop in demand, measured in chargeable weight, stayed -3% below the pre-pandemic level in 2019.
Global air cargo capacity continued to recover in October but at a slower pace and remained -7% below the pre-pandemic level.
The dynamic load factor was 7 percentage points and 1 percentage point down in comparison to 2021 and 2019 respectively.
Global airfreight spot rates lowered for a second consecutive month in October.
"We are six weeks away from Christmas and there is no indication there will be a peak.
Air freight is certainly not currently suffering the decline of ocean, where Xeneta has recorded rate drops of 60%-70% in the last nine months.
Ocean freight is responding to the market conditions much faster than air is and normalizing quickly from a rates point of view.
The outlook for air cargo remains uncertain. We don't see a pressure on capacity, and we don't see an increase in rates," said Niall van de Wouw, chief airfreight officer at Xeneta.
Economic pressures and the easing of ocean freight congestion mean airfreight growth next year is unlikely, said van de Wouw.
He noted that in contrast, rising belly capacity and freighters coming to the market means ample capacity. Van de Wouw said only a limitation in ground supply could lower rates.
Airfreight rates on top volume corridors from Asia to Europe and Asia to the U.S. continued to fall in October while general rates fell more substantially on inbound U.S. corridor routes than inbound Europe.
This is attributed to added costs for EU routes, due to the closure of Russian airspace and lower spending by U.S. consumers.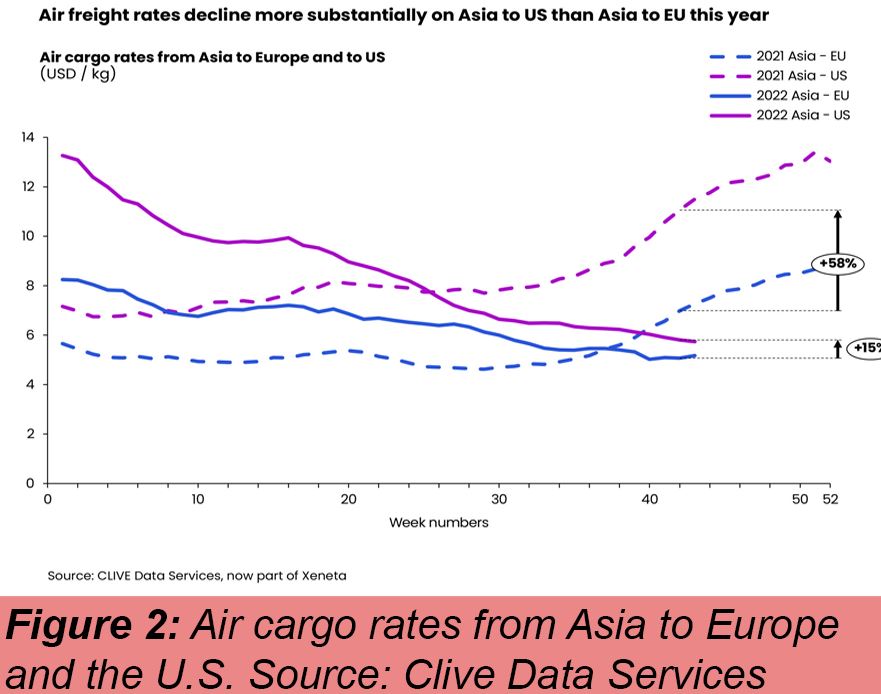 Source: Air Cargo News