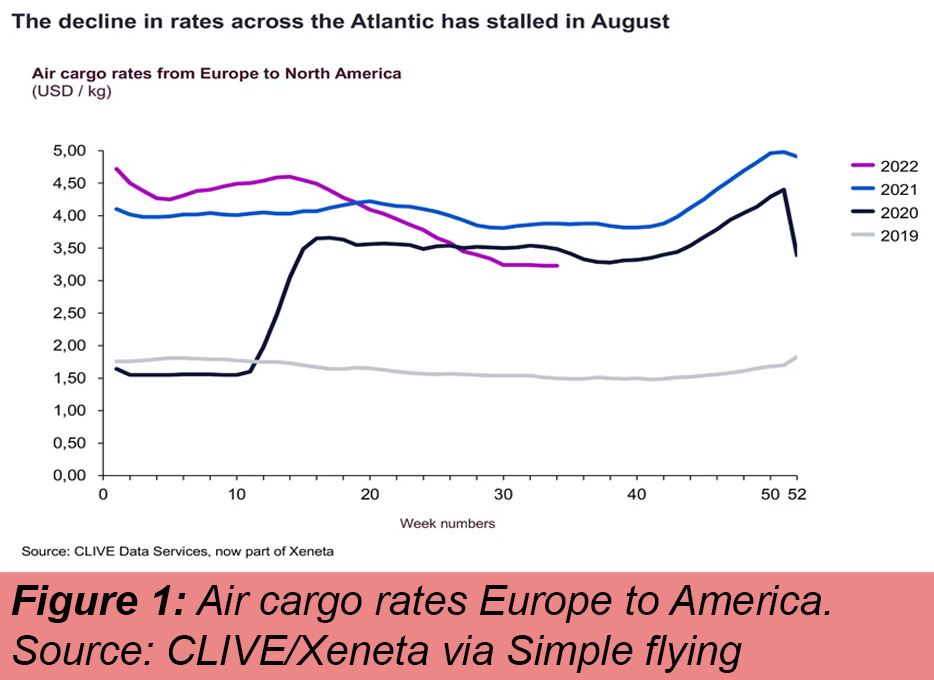 Several major air cargo operators are signaling an anticipated drop in demand or a flattening of the capacity requirements which characterized the pandemic.
According to IATA's latest industry update, air cargo capacity in June and July were tracking close to pre-pandemic levels but was measured against lowered demand which contracted by -5% year-on-year in August, and -4% compared to pre-pandemic levels, Xeneta's data revealed.
Consequently, shipping rates which peaked at 156% above 2019 levels, have been down trending since late March.
Rates are currently 113% above 2019 levels and the rate slide has started to slow down.
According to CLIVE data services, rates have plateaued in August between Europe and North America, leveling off below those seen in 2020 and 2021, but is still much higher than 2019 rate levels.
Air cargo carriers are anticipating a muted fourth quarter in 2022, due to a multitude of factors including continued disruptions to supply chains, global economic slowdown, a lack of people resources, higher than average fuel prices and the ongoing war in Ukraine.
Some freight airlines have halted their expansion plans, slowed fleet growth, reduced flight frequencies, or grounded aircraft as part of cost saving measures.
A global forwarder noted that improvements in operations of seafreight had contributed to a lower demand for air cargo but remained positive about the longer-term prospects for the industry.
Yet, there remain a number of operators who are looking to engage with the air cargo market.
Global shipping giant Maersk is launching its own air cargo operation, flying leased Boeing 767s as a complement to its seafreight operation.
Vietnam is eyeing the start of its first freight airline, IPP Air Cargo, and India's new cargo operator Quikjet is anticipating first flights before the end of the year.
Rates are slackening, and demand is beginning to wane, but compared with pre-pandemic times, air cargo remains in a healthy position.
Nevertheless, the fourth quarter of 2022 comes with some strong headwinds, and a good deal of volatility that cargo carriers will need to weather.
Issues such as reduced purchasing power through inflation, as well as the ongoing high price of jet fuel, will continue to dampen the airfreight market and slim the chances of airline profitability.
Source: Simple Flying