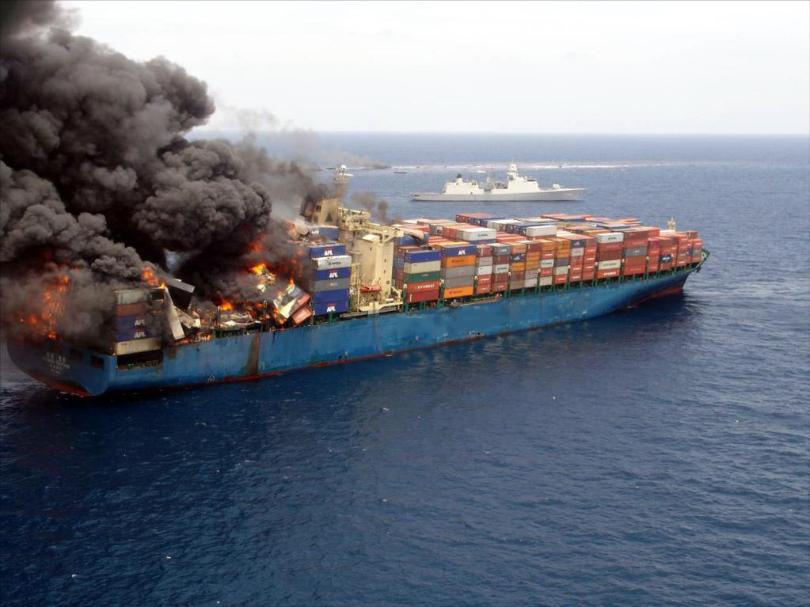 The transportation of hazardous and combustible goods through containers has been on the rise, posing an increasing risk to both container shipping and car carrier vessels.
Additionally, the prevalence of Lithium-ion (Li-ion) batteries has added to the potential dangers.
Larger vessels now handle these hazardous cargos, amplifying the consequences of fires and resulting in more severe losses and extended delays.
Captain Rahul Khanna, Global Head of Marine Risk Consulting at Allianz Global Corporate & Specialty (AGCS), highlights the impact of decarbonization on cargo, with the introduction of new types of goods, such as electric scooters and battery-powered items.
The demand for batteries has skyrocketed in recent years, leading to new risks in the industry. Fires pose a significant threat, causing general average claims on container vessels and contributing to total losses across all vessel types.
The sheer number of containers onboard some vessels, reaching up to 20,000, increases the risk of fire originating from a single container.
Detecting and combating fires at sea is particularly challenging for small crews of 20 to 30 people, as explained by Marcel Ackermann, Global Project Leader Cargo at AGCS.
Even a small container fire can quickly escalate, overwhelming the crew and potentially resulting in the abandonment and loss of the vessel.
Recent incidents, such as the ZIM Charleston fire and the sinking of TSS Pearl, highlight the urgency of addressing these risks. Fires at ports and warehouses, like the one in Chittagong, Bangladesh, further emphasize the need for effective risk mitigation measures.
General average incidents, which involve shared costs among all parties, are primarily related to mis-declared cargo, particularly dangerous goods. Mis-declared cargo, including chemicals, batteries, and charcoal, has been increasingly linked to cargo fires.
Improper declaration, documentation, and packing of hazardous cargo lead to inappropriate stowing and hinder firefighting efforts.
The Cargo Incident Notification System (CINS) reports that almost 25% of serious incidents onboard container ships result from mis-declared cargo.
A US National Cargo Bureau (NCB) survey revealed deficiencies in container inspections, with a significant percentage of containers failing to meet safety standards.
To tackle the issue, some container shipping companies have implemented cargo screening software and imposed penalties on mis-declared dangerous goods.
However, there is a need for unified requirements and fines across the industry to combat the mis-declaration of hazardous cargo effectively.
The increasing use of Lithium-ion (Li-ion) batteries in shipping has raised safety concerns. These batteries are prone to fire, explosion, and thermal runaway. The market for Li-ion batteries is growing rapidly due to the electrification of various sectors, including electric vehicles. Fires involving Li-ion batteries are particularly challenging to extinguish and can reignite even after being initially put out.
Most ships lack adequate fire protection, firefighting capabilities, and detection systems to handle such fires at sea. Captain Randall Lund, Senior Marine Risk Consultant at AGCS, emphasizes the need for quality control in battery manufacturing to address the risks associated with malfunctioning or damaged batteries.
While risks related to Li-ion batteries are expected to decrease over time, it is crucial to focus on preventive measures such as staff training, access to firefighting equipment, early detection systems, and emergency plans.
Efforts are underway at the regulatory and private sector levels to address the risks in container shipping. Proposed amendments to the International Convention for the Safety of Life at Sea (SOLAS) aim to enhance provisions for early fire detection and control in containerized cargos.
Private initiatives, like the Cargo Fire & Loss Innovation Initiative, aim to reduce the impact of cargo fires through joint requirements and technology solutions.
The process to amend the International Convention for the Safety of Life at Sea (SOLAS) has been delayed due to the Covid-19 pandemic but is now progressing.
In March 2023, the European Maritime Safety Agency published the CARGOSAFE study, evaluating measures for fire prevention, detection, firefighting, and containment on container ships.
The study, along with other industry and insurer proposals, will be reviewed by the International Maritime Organization (IMO) to improve firefighting capabilities for the cargo deck area of container ships.
The amendments to SOLAS, applicable to new ships, are expected to take effect on January 1, 2028.
Private sector initiatives, such as the Cargo Fire & Loss Innovation Initiative, are also working on joint requirements, technology solutions, and best practices to reduce the impact of cargo fires and loss.
In addition to fire risks, the issue of lost containers at sea is a growing concern. Recent incidents, including the loss of 46 empty shipping containers by an MSC container ship, have highlighted the threat these lost containers pose to navigation and the environment.
The World Shipping Council reported that over 3,100 containers were lost between 2020 and 2021, more than four times the previous period.
To address this issue, draft amendments to SOLAS and the International Convention for the Prevention of Pollution from Ships (MARPOL) have been proposed.
These amendments will require vessels to promptly report the loss of freight containers to nearby ships, coastal states, and flag states.
The expected implementation date for these amendments is January 1, 2026.
The concerns surrounding project cargo, which includes transporting large and heavy equipment by sea, have also come to the forefront. Specialized vessels, equipment, and port infrastructure are required to handle such cargo safely.
However, incidents involving non-specialist carriers have raised alarms. The Covid-19 pandemic has increased activity in the project cargo market due to infrastructure development and decarbonization efforts.
Still, there is a worry that the specialized skills needed for loading and transporting project cargo are diminishing. Insurers stress the importance of robust procedures, skilled personnel, and appropriate vessels to mitigate risks associated with critical cargo.
Training and expertise should be prioritized to ensure the safe handling of project cargo and prevent damage or delays.
Captain Rahul Khanna, Global Head of Marine Risk Consulting at Allianz Global Corporate & Specialty (AGCS), emphasizes the need for concrete measures to address these issues.
He highlights the importance of investment in fire detection and protection for existing vessels, as well as discussions at the IMO level regarding new ship design.
With stricter regulations and improved practices, the aim is to enhance safety, reduce the environmental impact, and mitigate risks in container shipping and the transportation of project cargo.
Source: www.agcs.allianz.com