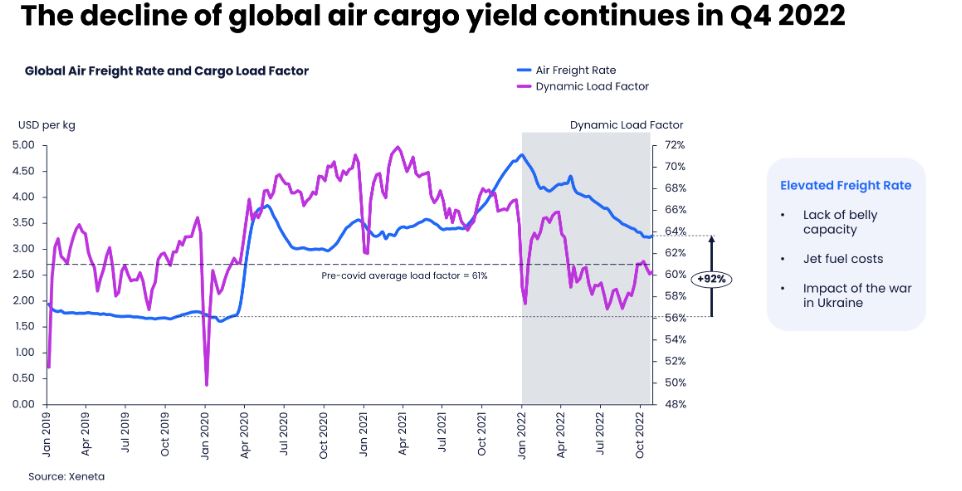 2022 saw many disruptive events impact the global freight market, and we're bound to witness some spillover from last year on air rates and volumes in 2023.
In January and February last year, air freight volume was sky-high, seeing an accumulative 4% year-on-year growth compared to 2021. But this growth dropped from mid-April 2022. Up until October 2022, we could see a negative slide of 3%, below the 2021 level.  
Before the pandemic, belly capacity represented roughly 55-60% of the market (the rest being freighter capacity). This was then wiped out during the onset of the pandemic after an 80% drop. But by Oct 2022, it gradually recovered, and freighter capacity started to trend down. The ongoing Russian-Ukraine war also slowed down the recovery of the belly capacity in 2022.  
The load factor peaked around April 2021. As of October 2022, it had recovered to a very pre-pandemic level and was below the pre-pandemic average.  
However, air freight rates were not following the load factor, and there was a delay of nearly nine months. In January 2022, rates started to trend down. We could see a second small peak around April 2022 due to Russia and Ukraine war. In October 2022, it was still double compared to the pre-pandemic level.
Among many reasons that were causing this elevated price, belly capacity was one of them. Belly capacity did not return to the market yet, creating pressure on the freight rates.  
Skyrocketing jet fuel prices were another factor along with the Russian-Ukraine war. The war put a lot of pressure, especially on airlines that served routes between Europe and East Asia. In response, they had to reroute their flights through the Middle East, which also added extra operating costs and left freight rates elevated. 
Due to the volatile market last year, it was difficult for airlines to manage expectations. However, compared to the APAC market, the American market started returning to pre-pandemic capacity by the end of October 2022, which brought good news for shippers.  
The APAC region was lagging with less available capacity, especially for mainland China. For the LATAM and North America market, load factor started trending downwards in Q4 2022 from its peak during the onset of the pandemic. But the load factor for APAC was at 84% in Q4 2022, making it a seller's market as it was still above the 80% tipping point. 
Looking at the inbound Europe freight rates in 2022 from Africa, North America, and Latin America for both long-term and short-term prices, we saw rates hovering around the 50-60% range compared to the pre-pandemic years. As of Nov 2022, the prices were double compared to pre-pandemic time. The APAC region was most affected due to the Russian-Ukraine war and the closure of Russian air space.  
Moving to the other side of the Atlantic, US retail sales for the past two years have always been positive y-o-y. Compared to demand in Europe, which registered of 14% decrease in October 2022, the US market was doing much better, with only a slight drop of 2%. However, inflation seemed to have the same impact in the US as we saw in Europe.  
Northern hemisphere summer travel in 2022 had already brought the market capacity back to the pre-pandemic levels. But the winter season lasting till March 2023, could normally reduce the capacity by 20%. However, it will not put too much pressure on the market as load factor was below the tipping point at 67% in Q4 2022. 
For capacity utilization, air cargo load factor from APAC to North America in October 2022 was trending down from the previous year's autumn high of nearly 95% utilization. In accordance with this, the air freight spot rates on this corridor were declining. The long-term market will likely trend downwards as well as shippers go to the tender round.  
The air freight rates from Europe and LATAM almost stabilized to a certain extent due to the returning capacity in the markets. 
The ocean market also has an impact on the air freight market. The onset of the pandemic brought a huge jump in the air-to-ocean ratio. Ocean schedule reliability trended from 80% to nearly 20% during April 2021. Hence the air spot rates peaked around the same.  
In 2022, as ocean reliability started to come back, air freight spot rates started to fall for Asia, Europe and US markets. Volume started to shift back to the ocean market, and hence there was a drop in the air freight volume in Q4 2022. 
However, Europe to the US market is slightly different when looking at the air-to-ocean ratio from last year. Because the trans-Atlantic Ocean market had quite high ocean freight rates, air freight was more affordable. 
Moving on to the global level, we could see freight buyers sticking with shorter-term contracts. Freight forwarders increased their volume share in the spot market by 10% compared to pre-pandemic. And between shippers and freight forwarders, yearly or two-year contracts had vanished from the market up until Q4 2022, while there was a huge increase in quarterly contracts. 
The air freight market is very hard to predict because air freight market volume itself is normally used as an indicator for economic upturns and downturns.  
Based on the historical correlation, OECD's composite leading indicator (CLI) could shed some light on the future of the air freight market. For Q4, CLI indicates that the global air cargo volume would not see a peak in 2022. 
But turbulent 2022 for the global air cargo market ended in December with a 'win/win' outcome for airlines, forwarders and shippers. Thanks to –8% year-on-year fall of chargeable weight, the general air freight spot rate registered its largest year-on-year decline of 35%. Still, overall average rates remained 75% above the pre-covid level, according to monthly market analysis by CLIVE Data Services, part of Xeneta. 
What to expect from air freight in 2023?
During a quick survey, most of the Xeneta customers in the audience agreed that they see European and US consumers spending less on goods in 2023 versus 2022, which is not good for air freight. 
With reduced consumer spending, we are bound to see dampened air freight growth because of two main factors. With the increased cost of living, there will be tighter consumer budgets. Also, with more and more services being available now, people will prefer to spend more on services now than they did on goods during the pandemic when most services were unavailable. 
Another factor is increasing ocean reliability. During the pandemic, customers were shipping more by air than the ocean due to the unreliability of the ocean carriers and increased blanked sailings.  
So, with 97% of the volumes moving by the ocean and 3% by air, even if a small percentage of ocean traffic spills over to air, it's bound to profoundly impact the air freight market. However, that is improving now, which would dampen the need for air freight.  
Niall also mentioned more environmentally conscious shippers who are looking to lower their carbon footprint or are willing to accept extra lead times would choose ocean freight over the air.  
From the demand side, we will likely see less need for general air freight in 2023 than in 2022. Niall added that it's important to monitor surface transportation modes closely for unknown events, which might boost air freight demand. But overall, he expects muted growth in 2023.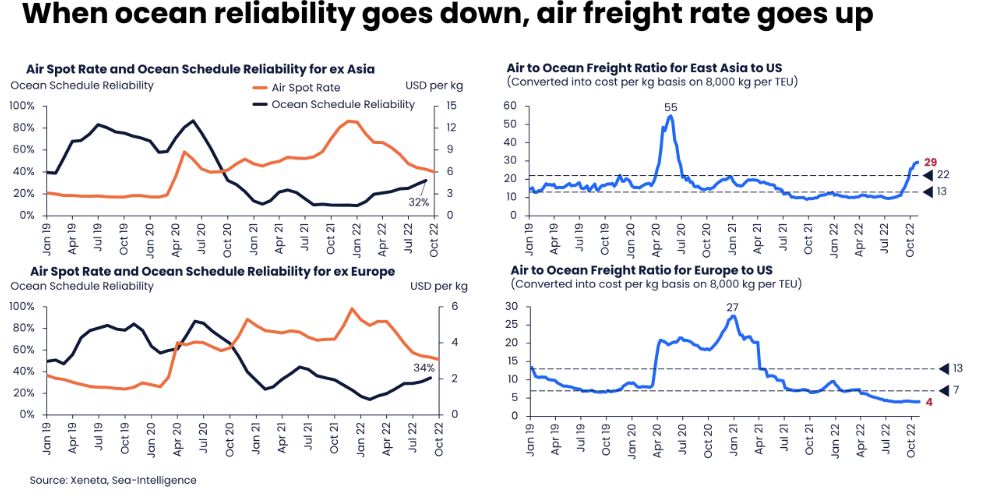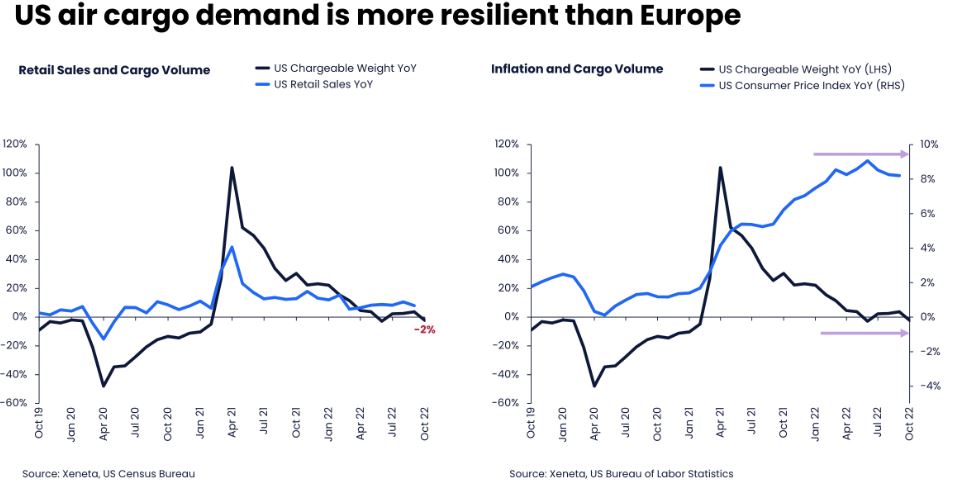 Source: Sona Mishra Xeneta