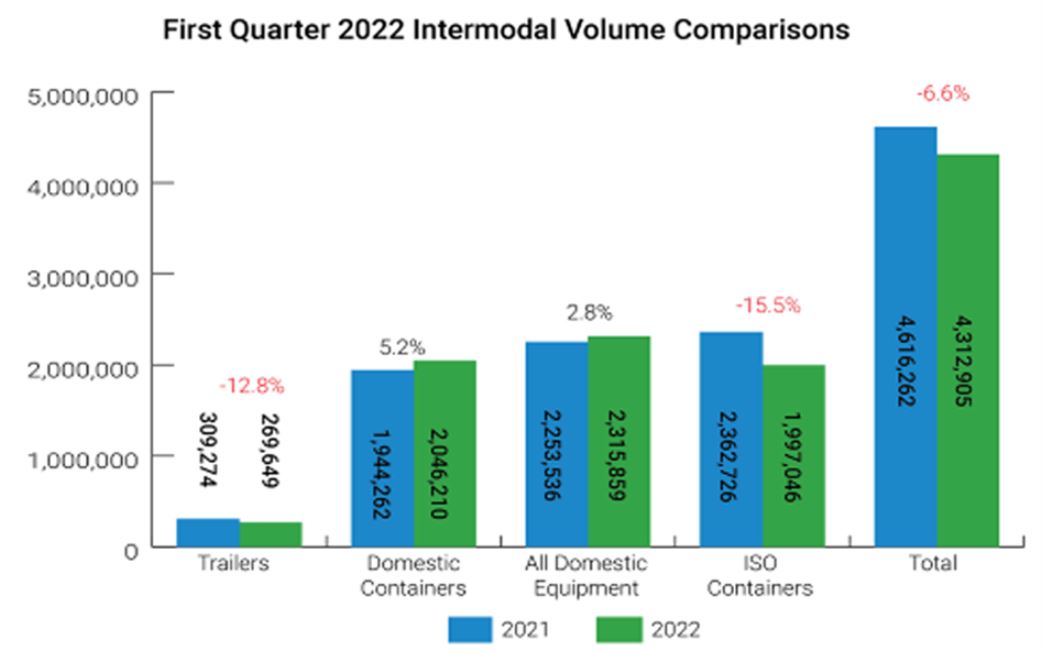 U.S. intermodal volumes dropped 6.6% year-over-year in the first quarter of 2022, reports the Intermodal Association of North America (IANA) in its Intermodal Quarterly report. International containers registered a decline of -15.5% and trailers of -12.8%, while domestic shipments recorded positive growth of 5.2%
The first quarter decline was preceded by contractions in the previous two quarters. IANA said congested terminals, driver and labor shortages and equipment misalignment caused falling volumes in the latter half of 2021. These issues are expected to continue through 1H 2022.
The seven highest-density trade corridors recorded declines which collectively account for more than 60% of total volume. "The South Central-Southwest, with a 15.3 percent deficit, led the losses, followed by the Intra-Southeast and Trans-Canada corridors at 14.6 percent and 13.4 percent, respectively. Also dropping in the first quarter: Midwest-Southwest, 8.7 percent; Midwest-Northwest, 7.3 percent, and the Northeast-Midwest, 2.5 percent. The Southeast-Southwest held losses to 0.8 percent," IANA said in a released statement.
Meanwhile, a downshift in trucking demand coupled with high fuel costs has given intermodal business an advantage as it is typically more fuel efficient than trucks. However, shippers have shown restraint over a dependency with intermodal options due to growing dwell times of intermodal containers at ports and chassis shortages in multiple locations.
Source: The Loadstar